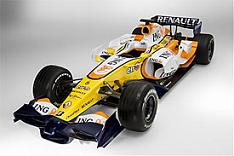 Pat Symonds, director of engineering at Renault, believes that his team will be able to beat Toyota to fourth place despite having trailed them in the constructors championship table since the Monaco Grand Prix in May.
"There are certainly trends, and at the moment we have a very distinct upward trend, whereas BMW have a little bit of a downward trend and Toyota seem to fluctuate," Symonds explained to Autosport. "So I don't think that the race itself shows a change to the status quo, but merely reinforces the trends which have been developing for a little while.
"I think it [the Hungarian Grand Prix] was probably our strongest result of the season. While Nelson's finishing position in Germany was a better result on paper, we were the first to acknowledge that luck played a major part in that result.
"In Hungary things were very different as we had two cars racing competitively all the way, racing against strong competitors and racing them on equal terms. From the moment we arrived there the car was competitive: we qualified well, we raced well and had to use strategy to get our result. The points were very welcome and in the last two races only McLaren have scored more points than us.
"The performance in Hungary reinforces the belief that we are moving in the right direction and gives me confidence that we can finish fourth in the championship and end the season with the third fastest car."