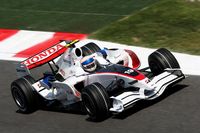 Super Aguri are on the brink of securing their financial and racing future in F1 as discussions with the German Automotive Group Weigl ran late into Friday night.
Things were looking bleak for the Leafield-based outfit when a buyout of the team by a Middle Eastern backer fell through a fortnight ago. The deal was brokered by the European automotive consultant Magma Group on behalf of Middle Eastern investment group Dubai International Capital (DIC).
However, in a joint statement released on Friday evening Super Aguri confirmed renewed interest from Wiegl AG as potential investors in the team.
"We are happy that we have been able to resurrect talks between Super Aguri F1 Team and Franz Weigl at such short notice and to have the opportunity of presenting the Weigl Group to the Honda Board once again," said Team Principal Aguri Suzuki.
"Such a partnership as the one proposed by Weigl Group will allow us to race for the foreseeable future and I am hopeful that all parties will find the Group s offer a realistic package."
Franz-Josef Wiegl, CEO of Wiegl Group AG, confirmed his intention to invest in Super Aguri F1.
"Weigl Group has decided to speak out openly at this decisive time for Super Aguri F1 Team."
"We would like to express sincere support for the team s participation in the Formula One World Championship and the Group s, together with its sponsors and Partners, earnest intention to provide ongoing investment to secure the team s future."