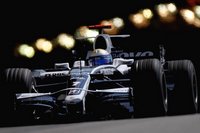 Nico Rosberg has confirmed that after he is fine after his big accident at the Monaco Grand Prix last weekend.
Rosberg, who lives in the Principality, had precautionary checks at hospital after his crash in the Swimming Pool complex.
In a column on the team website he wrote, "First of all, let me say that I m fine! My crash at the Swimming Pool chicane on lap 60 of the Monaco Grand Prix was a big one, but there s no damage not to me, anyway. After consulting the doctors on site I decided, as precaution, to go to the Princess Grace Hospital in Monaco. All the routine checks in the hospital showed that everything was perfectly fine, so I was released to go home rather quickly. After a couple days rest, I am currently preparing and training as normal for the Canadian Grand Prix."
Rosberg then explains how the crash happened. "The cause of the accident was straightforward," he continued. "I was pushing really hard on dry tyres and coming into the swimming pool corner after Tabac when the rear of the car flicked out suddenly on entry, most probably on a patch of water under braking. After that I was a passenger and hit the barrier on the right before being thrown across the track into the barrier on the left.
"What made the shunt so disappointing was the fact that the FW30 had been really competitive during practice and qualifying. I was second fastest during Thursday s second practice session and managed to carry that pace into qualifying. I was second quickest in Q2, just 0.1s slower than Felipe Massa s fastest time, and I was equally pleased with my lap in Q3 given my heavy fuel load to qualify sixth."