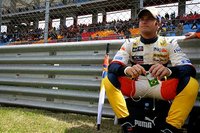 Nelson Piquet needs to believe in himself if he is to turn his so far disappointing season around, that's the wisdom offered by Renault's Pat Symonds who witnessed Heikki Kovalainen rejuvenate his career with Renault this time last year.
Piquet is a man under fire at the moment. The Brazilian has struggled to get to grips with his Renault R28 this year and has yet to put a point to his name. A string of lowly qualifying performances allied with several unforced errors on race-day have kick started rumours that Renault are seeking a replacement. At Monaco last week Piquet was visibly distraught after losing control of his Renault at St. Devote in the damp – his fourth no-show of the season.
Super Aguri refugees Anthony Davidson and Takuma Sato have already been linked to the Brazilian's seat, though the rumours are believed to be unfounded. Renault team boss Flavio Briatore meanwhile has reportedly given his driver a three race deadline in which to up his game, while Fernando Alonso will relinquish testing duties next month in Barcelona to give Piquet more mileage in the car.
Renault's director of engineering Pat Symonds has insisted that Piquet is just suffering from a lack of confidence and that it will only take one decent result to turn his fortunes around.
The experienced 55-year-old points to Heikki Kovalainen's impressive charge to fourth place in last year's Canadian Grand Prix as a case in point. The Finn scythed his way through the chaos despite writing off his Renault in qualifying and starting from the back of the grid.
"It has been difficult for him (Piquet) but he has put in some good races," acknowledged the Englishman on Renault's official team podcast.
"This time last year a lot of people were thinking Heikki was entering his last few races, and Canada was just an incredible weekend for him because on Saturday could things really have got any worse?"
"He had two major accidents in qualifying and it's still a miracle to me that we got the car out again in qualifying to get anywhere. Fabulous race on Sunday and he never looked back."
"I've said it so often before – with a driver or sportsman it's about self esteem and about believing in yourself. All Nelson needs to do is turn that corner and believe in himself and it will happen again."
Renault Team Boss Flavio Briatore has likewise moved to defend his driver despite the rumours that he has imposed a three-race deadline on Piquet to improve.
"Nelsinho definitely has talent," the Italian is quoted as saying this week by sportnet , after Piquet's disappointing showing at Monaco last week.
"He is a part of the team and we need him. I have no doubts about that."