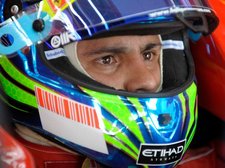 Championship hopeful and local favourite Felipe Massa was quick to thank his fans after he clinched pole position for Sunday's decisive Brazilian grand prix.
The Ferrari driver, who is hoping to become the first Brazilian champion since Ayrton Senna in 1991 in Brazil this weekend, set a searing pace around the bumpy Interlagos circuit, taking pole position by an impressive margin and seeing championship rival Lewis Hamilton drop to fourth place.
Massa was quick to thank his fans who turned out in their droves to support him on Saturday: "It's so nice to be here and taking my third pole in a row in front of these fantastic people, who are one hundred per cent emotional about their motor racing."
"It's great for us to come here and see so many people which love what we're doing. It's difficult to describe how I'm feeling in Brazil, in front of my own people. I'm also racing for a fantastic team, very emotional, which works very hard. And having my family here and friends, that's very important too."
Massa must win the race and hope that Hamilton finishes fifth or worst on Sunday to be crowned championship. The Brazilian youngster admits it will be a tough race.
"I think (it will be) a tough fight between all three drivers. We have 73 laps tomorrow which is a pretty long, but it is always better to start from the front."
"We have proved we have a good car over (the course of) Friday and Saturday. We were very competitive also in Q3. It's always good to be in front, I will try my best to win the race: that's the most important thing."
Massa will take heart from Ferrari's underlying pace though which saw him take pole by over half a second to Toyota's Jarno Trulli.
"I would say I was very competitive and very quick all around the track, but in Q2 I made a small mistake in Turn 4 where I went off the kerb and maybe lost a couple of tenths."
"So it was already not a good lap. But I managed to pull everything together in Q3 where we showed our great performance."