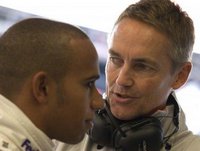 McLaren have conceded that seeing Lewis Hamilton stripped of victory in Belgium was a crushing blow, and have vowed to fight back in Monza this week.
The Woking squad's appeal against the stewards' decision to penalise Lewis Hamilton for cutting a chicane during his duel with Kimi Raikkonen will be heard later this month, but it means that the British ace arrives in Monza for the Italian Grand Prix with his championship lead sliced to a mere two points over Ferrari's Felipe Massa.
McLaren, who were twice told by race control that Hamilton's pass on Kimi Raikkonen was 'okay', are determined to bounce back in Monza and trounce rivals Ferrari on home turf.
"In the most difficult conditions we experienced in Spa, particularly in the final stages, Lewis was clearly the best driver; everybody could see this," mulled Mercedes-Benz vice president Norbert Haug.
"He showed great racing with courageous overtaking, and this is what the spectators want to see. In our opinion, Lewis did not put a foot wrong, and foremost he did not think he gained an illegitimate advantage.
"So our disappointment was big, when the stewards took away victory from him and the team. However, we are fighters. If we would have needed a better motivation for the last five races of the season we have it now. When we went to the airport last Sunday evening, Lewis said to me, preferably we now want to win all remaining races, don't we? I have no objection."
Hamilton himself meanwhile is relishing the prospect of returning to a track where McLaren have traditionally run strongly, the MP4-23's superior handling in and out of the several chicanes which separate the long straights and high-speed corners.
"People say Monza is just about power and top speed, but it's also a driver's track, which is why I like it," enthused Hamilton. "It's not as straightforward as it seems because you run with very low downforce, which means you rely heavily on the tyres and the car's mechanical grip -but you're also attacking the kerbs, which requires a softer set-up."
"You also need plenty of stability under braking and as much grip as possible for the corners. The key is to run the car as low to the track as possible without having it bottom out."
"If you're trying to pass somebody, you have to stay as close as possible through the last corner. If you can get a good tow out of Parabolica, then you can slipstream down the straight and have a look up the inside at Turn One."
"That's your best chance of making a move on someone. You can also try if you get a good exit from the first chicane and have look up the inside into the second chicane, but that's not so easy."
Both Hamilton and team-mate Heikki Kovalainen had a productive three day test in Monza prior to the Belgian Grand Prix, and McLaren CEO Martin Whitmarsh is confident that they have the equipment underneath them to challenge for the race victory.
"Both Lewis and Heikki have previously gone well at Monza; they both like the track and are looking forward to the race, and that certainly helps," he said.
"On the engineering side, we came away from the recent Monza test very encouraged by the pace we showed. Of course, we're under no illusions that Ferrari will be strong, and we expect them to be stronger there than they were relative to us last year, but we go to the event with high expectations."
"As the fastest circuit on the calendar, we uniquely prepare a car for Monza that is best equipped to run in low drag configuration. This essentially means the reduction or removal of a number of aerodynamic components that would ordinarily create downforce, and drag."
"This weekend, for example, you'll see we've removed the nosebox winglets and are running a single deck rearwing. At Monza, you also need a car that can ride the kerbs well and remain stable under heavy braking, so it's a case of balancing the car for that combination, rather than simply stripping everything off in the quest for maximum straightline speed. It's a unique challenge."