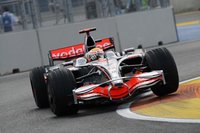 Lewis Hamilton's pre-race grumble at the presence of his peers during the Friday running is almost becoming routine.
At Hungary the McLaren driver was unhappy with the amount of traffic during the opening practice sessions, and here at Valencia, the British star is once again making the news for his disdain at anything slower than him.
Admittedly, the crime was felt to be worse around the stunning Juan Carlos I Marina with Hamilton criticising some of his fellow drivers for driving carelessly.
"Some drivers just lift off the throttle and end up in your way," Hamilton told the Daily Telegraph.
"They are trying to create a gap ahead, for the sake of a clear, fast lap, but they don't care who might already be on a quick lap behind them. That compromises things," he added.
The criticism aside, it was a quiet day of McLaren, with both Hamilton and Kovalainen spending most of Friday dialling their cars and feeling no urge to go hammer and tongs at the pace-setting Ferraris.
McLaren may not have unleashed their full potential around the demanding 5.4km circuit track, but it is clear that the Woking squad will once again have their hands full with the scarlet cars.
But both drivers are confident they have the machinery underneath them necessary to take the fight to their Italian rivals: "Considering the dustiness of the track, we made a very promising start on set-up," said Hamilton. "We were able to go quicker on each run without changing too much and we took a very good baseline into the afternoon session."
"In P2, our adjustments were again spot-on but the sheer volume of traffic meant it was difficult to immediately confirm our final set-up changes. Nonetheless, we're in pretty good shape and I'm looking forward to tomorrow."
"I immediately found a good balance at the front-end and slowly dialled in the rear during the first session," concurred Kovalainen. "But the track was very green this morning which meant there was little point in making big changes to the car."
"In the afternoon, we made a number of changes which seemed to pay off for us – by the end of the session, the car was working well and the balance felt really good. Today's progress is very encouraging."