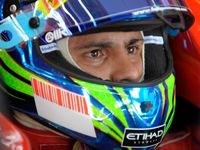 Felipe Massa has called on the FIA to investigate the construction of trackside barriers following Heikki Kovalainen's accident in Barcelona last week.
The Brazilian was impressed that Kovalainen's McLaren stood up to the 130km/h impact but expressed concern about the way the MP4-23 dived into and through the tyre blockade.
"I was very pleased to hear that Heikki was okay after his accident," the 27-year-old told his official website. "For sure, if you have a failure on the car, there is nothing you can do as a driver."
"Given how hard the impact was and the fact that he escaped injury means the track safety features were generally the way they should be. And the car stood up very well too."
But he added: "The only unusual feature was that the car went under and through the tyre barrier and so did his head."
"That is a bit scary and I think the FIA should look into the construction of the whole barrier system."
Massa is not the only driver to voice concern about the incident. Red Bull Racing's Mark Webber, who is a long-standing director of the Grand Prix Drivers Association (GPDA), has called for a larger run-off area at the turn where Kovalainen crashed.
"It was a really nasty one and it is never nice to see a car buried that deep into the barriers," the Australian said on his BBC column.
"The first thing to say is that the run-off on that corner is too tight and we need to have a look at it because any driver that has an error there is going to have a big crash."
"If Heikki's accident had happened two seconds later he would have been fine and controlled the car, but it probably happened on the worst section of that whole track."
The 31-year-old was particularly concerned with the angle at which Kovalainen ploughed into the tyre wall.
"The problem with Heikki was that he went in at a nasty angle," Webber added. "The conveyer belt system, which keeps the tyres together, works very well for a slightly different angled contact because it is supposed to cushion the whole thing and keep the tyres intact as well."
"F1 cars are like a pencil and it meant he went under and penetrated the conveyer belt."
"It is a nasty angle as it is like being in a sled and with the amount of pressure that comes along the top of the chassis the next thing exposed in the forward section is your head."
"It doesn't matter if it was 10 rows of tyres or 20 rows – it was going to happen at that angle."