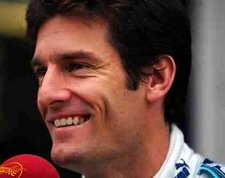 Red Bull Racing are confident that Mark Webber will be on the grid for the season-opening grand prix in Melbourne next year after he sustained serious injuries in a cycling accident this weekend.
The 32-year-old Aussie collided with a car, breaking his leg, while taking part in his own charity event, the Mark Webber Pure Tasmania Challenge. He was flown to the Royal Hobart Hospital where he was given surgery to re-set the fractured bones.
Although Webber is expected to miss the majority of winter testing, Red Bull Racing are confident he will recover in time for his home race, the season-opening Australian Grand Prix, in March.
"Mark will remain in Tasmania for a few days before continuing his recovery in the UK," said the Milton-Keynes based outfit in a statement.
"While it looks like he's out of the winter testing programme, we fully expect Mark to make the starting grid in Melbourne next March.
"Mark has said he's relieved to know the driver of the motor vehicle was uninjured and expressed his thanks to the many well wishes from family, friends and supporters.
"Everyone at Red Bull Racing would like to add their best wishes to Mark and hope for his speedy recovery."