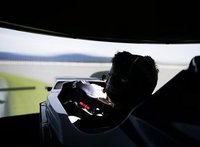 Teams and drives adopt varying approaches to Valencia challenge.
Unless you're completely loaded, you probably wouldn't hurl your hatchback blind around a twisty foreign marina with the same lack of respect you show the streets that surround your home.
Yet, in less than a week's time, that is exactly what will be asked of Lewis Hamilton et al. as they head into the unknown for the inaugural European Grand Prix at Valencia and reach speeds in excess of 300kpm around the city's captivating harbour streets, mere meters from the Mediterranean (circuit organisers have already practiced rescue dives in the unlikely case that the cars run off the Astilleros Bridge, it is reported).
With the summer development freeze putting a halt to any pre-race testing many of the drivers have been preparing for the grand prix behind close doors at the team factories, swotting up on the data and making dummy runs in the simulators all but Fernando Alonso that is.
"We started doing some initial mapping of the circuit several months ago, from architect plans and FIA information," explains Williams' chief operations engineer Rod Nelson. "We created a rough map of the circuit and then we ran our simulation around it to see things like aero levels and look at the potential for high brake wear or what kind of demands the circuit will put on the tyres," he adds on a team podcast.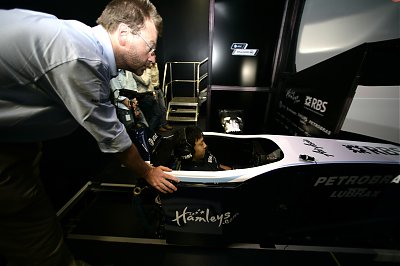 Williams have fed the data into its in-house driving simulator, giving Nico Rosberg and Kazuki Nakajima a chance to get a feel for braking points and potential passing places before they arrive at the Spanish port city.
Advances in GPS mapping have meant that almost all the teams have some kind of simulator nowadays, and most drivers will be making a visit before flying out to Spain, though probably with varying degrees of commitment and attainment. When at Williams, Juan Pablo Montoya was renowned for being able to hold down lengthy telephone conversations on his mobile while negotiating the virtual tracks, while some drivers have even been sick in the make-up cockpit. Oh to be a fly on the wall when Kimi Raikkonen jumps in.
"We have a simulator at our UK base, as do most teams, and spending a lot of time on that has been vital in terms of learning the circuit," says Jenson Button. "With a simulator, you're not getting the complete feeling of the car but you are gaining understanding of the distances and the braking points, so it's very useful."
"We have some very fast circuits like Monza, Spa and Silverstone on the calendar and then the slower circuits like Monaco and Hungary, and we're expecting Valencia to be somewhere in the middle."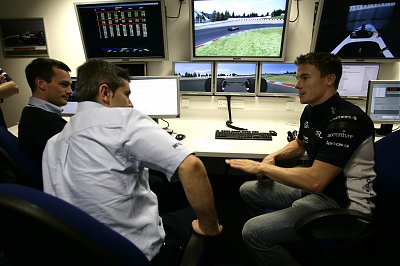 Not all drivers the experience useful however. Fernando Alonso has resorted to analysing video footage sent to him by a friend who took part in the Formula 3 and GT races at Valencia. The Spaniard, who will get a second opportunity to race in front of his home crowd next week, admits that he would learn little from a run in the simulator.
"We don't have any simulator with that kind of possibility for learning a circuit," Alonso told Speed TV. "In my case it's only from video, pictures and I had a friend at the last race who did one lap with a normal road car, with a video camera in the front, just to know the track."
"But until you run with an F1 car on a new circuit, nothing you do is very useful, because you'll end up changing your opinion and feelings completely," he added.
Indeed, all the drivers and engineers would concur that there is no substitute for experiencing the nuances of the track first hand and the vast majority of variables can only be ascertained once racing begins.
"Of course, we've done some preparation back at the McLaren Technology Centre ahead of this race," reveals Lewis Hamilton, "but our main focus will still be the three free practice sessions ahead of qualifying."
"I'll be working closely with my engineers to make sure we start the weekend with a good baseline and work hard to strengthen it as we go through the weekend."
Almost everyone up and down the paddock has stressed just how important the opening practice sessions will be.
"The most important thing is to be thorough, methodical and iterative," explains McLaren CEO Martin Whitmarsh. "Although we arrive at a new racetrack having undertaken a huge amount of research and armed with an enormous amount of data, the reality is that it's really only the starting point for our engineering team."
"We begin Friday practice the way we would at any other circuit, but in this instance, we need to pay particular attention both to driver feedback and the data generated from the car."
"The important thing is not to react too hastily it's vital that you don't end up going down the wrong path, because you only have a limited amount of time to tune the set-up before qualifying."
Quite. Much has been made of the fact that the Valencia, which features three sweeping high-speed straights, could not be more dissimilar from Monaco despite the obvious similarities. But with barriers not run-off for refuge in the event of a mistake, the consequences of getting it wrong are equally as destructive.
"We'll be packing plenty of spares," jokes Whitmarsh.