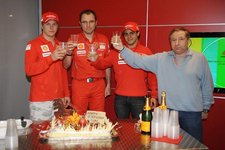 Reigning world champion knows the score in Brazil
Ferrari will not need to issue explicit team orders during Sunday's decisive Brazilian Grand Prix, with Kimi Raikkonen admitting that he knows his role.
Raikkonen closed a seventeen point gap to Lewis Hamilton on his way the title last year, but that was only made possible by Massa who let the Finn past in Brazil, despite having the legs on his team mate around the bumpy Interlagos circuit.
One year on and Raikkonen is ready to return the favour.
He revealed, using the auspices of "team objectives": "My aim is to do my own race and help the team reach its objectives and I know what I have to do for that to happen."
"It will be a tough race on Sunday and you never know what could happen: we have to be prepared for every eventuality."
Massa must win the race to be in with a shout of winning the championship, but even then he must depend on Lewis Hamilton finishing fifth or worst.
The Brazilian ace has historically run well in front of his home crowd in Interlagos, and that, coupled with the superiority of the Ferrari F2008 around the bumpy Sau Paulo circuit a picture that was reaffirmed in Friday practice, despite a major aero upgrade by McLaren should give Massa cause for confidence.
"It's important to get off to a good start on such an important weekend," said the 27-year-old, who is hoping to become the first Brazilian champion since Ayrton Senna in 1991. We found a good set-up for the car, which seemed to be well balanced in both sessions."
"The track here offers a lot of grip and so, even with today's low temperatures, that was not a problem, especially given the tyres we have available to us here."
"My aim? To be in front of everyone, both tomorrow and on Sunday. Then we can do the maths when it's over. Racing at home, with the crowd on your side is a great motivation for me: it's a fantastic feeling, but difficult to put it into words."
While the talk leading up to Brazil centred on Felipe Massa and his capacity to resort to "dirty tricks" to beat Hamilton to the title, theories floating around internet discussion forums have pointed to Raikkonen as the better placed of the two Ferrari drivers to win
Massa the championship by foul play.