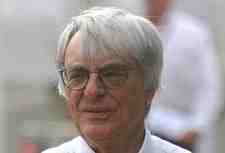 Bernie Ecclestone is reported to have offered financial assistance to Honda Racing to secure a management buy-out of the team only to be snubbed by bosses Nick Fry and Ross Brawn.
The News of the World claims that Ecclestone was prepared to offer the Brackley-based outfit as much as £100 million for a share in the team with Fry and Brawn retaining a 17.5 per cent stake.
"I tried to help with the management buy-out," Ecclestone revealed to the British tabloid. "They should have taken what I offered. It was a very good offer for everybody concerned. It gave them complete protection but they wanted to do things on their own. Now all we can do is hope and pray."
Honda Racing chiefs have less than a week to find a buyer for the team and with the rumoured takeover by the Virgin Group looking increasingly less likely following Richard Branson's assertions that Formula One is not yet ready for his company [see separate story HERE], Ecclestone concedes that the Japanese manufacturer is running out of options.
"I don't think anybody knows what is going to happen with Honda," he said. "It is up to them to make up their bloody minds. But the team can go one of three ways. They either go with the management buy-out, sell to Richard Branson or they could simply just close down the whole thing."
However, Ecclestone remains optimistic that Formula One would survive the worst case scenario of Honda Racing being disbanded.
"If we lost a McLaren or Ferrari or somebody like BMW, people would wonder what's going on," mulled Formula One's chief executive. "But I don't think that will be the case with Honda. They didn't do too much last year, did they?"