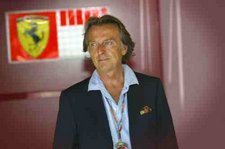 FOTA President bumps into Bernie in the Alps and puts revenue distribution at the heart of his vision for Formula One.
FOTA President Luca di Montezemolo has renewed his call for a review of revenue distribution in Formula One after holding discussions with Bernie Ecclestone at Ferrari s annual Wrooom event in the Italian ski resort of Madonna di Campiglio.
The Ferrari boss set out what he sees as the key tenets of grand prix racing over the next few decades and said that the immediate priority was to review the way revenue is shared between the teams and the commercial rights holders.
"I think that F1, which is our life, nowadays needs the 'four Ss'," he said.
"Stability, because regulations can't be changed every six months or every year, as that means being unable to program and it means the public becomes disoriented;
"Seriousness: these are financially difficult times, so we need common vision, seriousness, professionalism, and most of all never give the impression there are divisions;
"Show, or success, which is the same thing, therefore we need to look hard at the race weekend, the circuits, overtaking, the regulations;
"Sustainability: that's made of costs and returns; no team, no company can stand on its feet if it doesn't balance costs and returns."
Prioritising the need for a review of revenue distribution he added: "We now need to face the issue of revenues. We have a Concorde Agreement with FOM until 2012. There will be time between now and 2012 to improve the commercial aspects and especially the show, and then to evaluate what to do after that, with seriousness, stability, success and sustainability.
The teams are currently believed to earn around $500 million in TV money which is distributed according to position in the Constructors Championship. But this only accounts for the money distributed by the FIA as prize money, not the total amount accrued by commercial rights holders CVC Capital Partners.
Ecclestone launched a scathing attack on Di Montezemolo when he first made the demands late last year citing Ferrari s special financial benefits as a result of their historical status in the sport.
Although Formula One s Chief Executive has yet to comment on the Italian s latest demands there is no reason to think that his meeting in Madonna di Campiglio has softened his stance, especially given that he is under pressure to increase the income for commercial rights holders CVC who are struggling with debt.
Di Montezemolo said he hoped to reach agreement with Ecclestone nonetheless.
"He's a person a great capabilities, who's done so much in F1. I'm happy to see him here, and I'm happy to talk, and I hope we'll agree, on behalf of all teams, on common objectives for the future, with everyone doing his own job and respecting his own role, knowing there's a team and company association today which looks at the future, and knowing that there's him, who's always been an interpreter of the future."