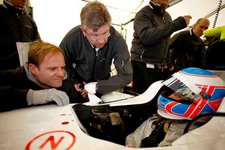 New boys on the block Brawn GP rise above hype and controversy in Melbourne as Formula One gears up for historic season-opener.
"We're here to win the championship," was the signal of intent from a fired up Jenson Button as the legality of his new car was called into question ahead of Sunday's Australian Grand Prix.
The Briton, who only a few months ago faced the very real threat of watching this year's title battle unfold from his sofa following the demise of Honda, took centre stage today as the world's media latched on to the possibility of an off-track row over diffuser design blowing apart a fairy tale result for the 29-year-old and his impressively quick Brawn GP team this weekend.
Brawn GP, along with Toyota and Williams, were accused of running an illegal diffuser design and their rivals Ferrari, Renault and Red Bull launched a formal protest to the race stewards. It was not until 00.45 on Friday morning, Australian time that the stewards finally declared all three teams' cars to be legal.
Team Principal Ross Brawn admits that the controversy has been a distraction, but Button is keeping his head firmly focused on the weekend ahead. And he shrugged off the additional expectation that has fallen on his shoulders as a result of his team's searing pre-season pace.
"It's not a pressure, definitely not, it's a nice feeling," he said. "We've done seven days of testing, I've driven the car for three days which normally wouldn't be enough. We've been reliable-ish, so we've been able to get quite a bit done in that time."
"I feel comfortable in the car, I feel that I've made it quite personal to myself which is good, but we're coming here with an open mind, for sure."
The British driver went on to dismiss suggestions that his team arrived in Melbourne as underdogs and he fully expects to be challenging at the front end of the grid this weekend based on the pace of the new BGP001 in testing.
"We should be the underdogs, for sure, being a private team with a customer engine, but looking at the testing times, we're not, but the testing that we had – seven days – it was so valuable to us," he said.
"We're not going to plod around slowly. We have to see what the car can do and we have to get the maximum out of it, push the car to the limit, so we can find the limit. So we don't really have a choice in the matter."
He added: "I don't know if we are the favourites or what but it's nice knowing that we have a competitive car and as I said, we don't know how competitive it is but for me, all I know is that it's great to drive and I feel that I can really work with it and the changes that I make, make a difference, good or bad, so I'm happy with what we have."
Button also sent out a stark warning to his rivals saying that Brawn GP have no intention of being a one hit wonder and will fight hard to win the championship.
"I hope happens, that we can sustain our performance, whatever it's going to be," he said. "Yeah, that's got to be the aim. We're here this weekend, hoping that we can do the whole season. We haven't come to Melbourne to just do the first two or three races, we're here for the championship, so we've got to hope that we can complete it."
Brawn: Diffuser row has been a distraction
Team Principal Ross Brawn meanwhile is looking forward to turning his attention to the race weekend have been caught up in the row of diffuser design.
"It is nice to get it out of the way because it has been a fairly big distraction over the last 24 hours since we arrived in Melbourne," he told reporters in Melbourne.
"So there has been a little bit of an awkward period, and hopefully we can now focus on getting the best out of the car over the next few days. Obviously when we came here we felt our diffuser was within the regulations, and the stewards have obviously agreed with our viewpoint.
"So we respect the right of our competitors to challenge the opinion of the FIA technical department, and our opinion, but obviously the stewards have understood our reasoning and confirmed that our diffuser is fully compliant with the technical regulations.
"I would like to think the matter is closed, but that is not my decision. Hopefully it will not spoil what is going to be a great season."