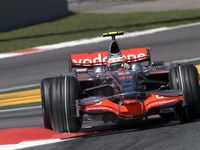 Heikki Kovalainen will start from the front-row of the grid for the first time in his career following a combative charge to P2 in qualifying at Istanbul. The Finn lines up ahead of team-mate Lewis Hamilton for the second time this year.
Kovalainen has been consistently quick all weekend and reiterated his raw pace in qualifying with an impressive lap that leaves him perfectly poised to challenge pole-sitter Felipe Massa in tomorrow s Turkish Grand Prix.
"The two weeks following my accident in Spain have been a little bit like a rollercoaster ride and I am really happy to start from the front row here in Istanbul," relished Kovalainen afterwards.
"I have felt comfortable in the car since my first lap yesterday, and everything has been running smoothly. In my second run in the third part of qualifying I attacked as much as possible, and the lap was absolutely clean which was great."
Kovalainen, unlike Lewis Hamilton, elected not to gamble on the hard tyres and instead used the prime softer compound to catapult himself onto the front row. Although this means starting from the dirty side of the grid, the Finnish ace does not believe it will hinder him too much.
"The tyre choice this weekend has been extremely tricky," he explained. "I am starting from the dirty side of the circuit but don t think this will be a problem, and we have a good basis for tomorrow s race."
McLaren s senior management were pleased with the overall result particularly with regards to the gap to Ferrari, however both Ron Dennis and Norbert Haug have admitted that they would have preferred to see at least one of the silver cars on pole.
"A competitive qualifying session from the team, and it looks like we have closed some of the gap to our main competition, but we have to see how the race unfolds," reflected Dennis, McLaren s Team Principal.
"Obviously we would have liked to be on pole, but at the end of the day both drivers did a great job. Heikki has been consistent and quick since his very first lap on Friday."
"Lewis made the decision to use the prime tyre for his final run as he felt the option was going off a little bit at the end of the lap. With two cars in the top three we look forward to a competitive race tomorrow."
"Positions two and three are a good basis for tomorrow s race," concurred Haug, Vice President of Mercedes-Benz, "but of course ideally our aim was to start from the pole," he added.