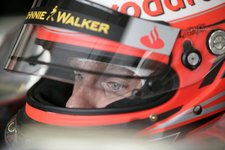 Under pressure McLaren driver Heikki Kovalainen admits he has struggled behind the wheel of his MP4-23 in his first year with the Woking outfit, but vows to build on his experience in his preparations for 2009.
Heikki's sensational pole position at Silverstone back in July seems a long time ago. Had it not rained on Sunday, it might have been him and not team mate Hamilton destroying the field on race day and getting his championship campaign back on the rails.
A timely confidence pill it would have been at that: Kovalainen's results took a hit after that memorable rain-hit afternoon in Northamptonshire. A win at Hungary beckoned, but it came as a result of others' misfortune, and wasn't the kind of season-resurrecting result that it might have been.
Then came Spa and Monza. The chaos and controversy of both races let Kovalainen off the hook, but it won't go unnoticed that the Finn was a country mile of Hamilton's pace in Spa – despite carrying less fuel in qualifying – and in Italy, he could and should have beaten Sebastian Vettel's Toro Rosso.
Bottom line is that Kovalainen, while proving more than a match for Hamilton at times in qualifying, has struggled over the course of a race stint, particularly when its been in the rain.
That led to experimentation with the set up of his MP4-23, but not the sweet-spot he so craved.
"It didn t take too long to find where I wanted to be with the team, but it s taken longer to get used to the MP4-23," reflects Kovalainen.
"Sometimes I ve pushed the set-up in the wrong direction but, over the year, I ve found a better direction. I ve been particularly pleased with my qualifying pace; even from the first race, I was competitive."
"Now I m working hard to improve my knowledge of the tyres and everything is headed in the right direction."
McLaren are working hard with Kovalainen to help him address some his weaknesses and this will continue into the winter. The Finn is adamant he can come out stronger.
"It s been a good season overall. I ve done a lot of learning throughout the year and I already feel much better prepared for next year," he said.
"I now understand how to make the car fast and what I need to do to get the most out of it. I thought this year would be more difficult, but I feel I ve done a good job."
And as for the season finale in Brazil, Kovalainen is under no allusions of the responsibility that rests on his shoulders in terms of the constructors fight with Ferrari.
"With the championship as it is, things are a little different going to Brazil."
"Clearly, I want to be able to help the team and Lewis wherever necessary – but the easiest way to do that is to be running at the front."
"The team knows I will play my part, but we are also targeting the constructors championship."
"We may be 11 points behind Ferrari, but there are 18 points available in Brazil and we go into the final race still looking at securing both world titles – that has to be our aim."