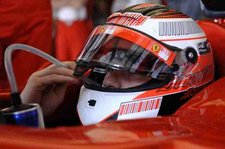 A decidedly disinterested Kimi Raikkonen admits there was little more he could have done to help team mate Felipe Massa during qualifying for Sunday's Brazilian Grand Prix.
For a brief moment it looked as though it would be an all scarlet front row in Brazil after Raikkonen hustled his Ferrari up alongside Massa. But a sensational late effort from Toyota's Jarno Trulli saw Raikkonen drop to third.
Crucially though, the Finn lines up ahead of McLaren's Lewis Hamilton.
"I think I did more or less what I was supposed to do," he said pointing to unsaid team orders to support Massa at all costs and qualify ahead of Lewis Hamilton.
Raikkonen also reckons that third place will give him a better sling shot into the first corner.
"I actually prefer third to second here. Its a good place to start. Hopefully we can get a good start. I think we have the car to pull away and that would be perfect for the team. We just have to see what happens."
Raikkonen closed a seventeen point gap to Lewis Hamilton on his way the title last year, but that was only made possible by Massa who let the Finn past in Brazil, despite having the legs on his team mate around the bumpy Interlagos circuit.
It remains to be seen whether the Finn will return the favour in Sunday's race.