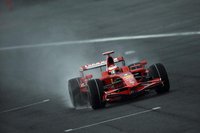 His title hopes may have taken a knock when he went crashing into the wall in Belgium, but defending world champion Kimi Raikkonen did enough damage in the laps preceding his controversial run-in with Lewis Hamilton, it would seem, to convince his employees of his long-term credentials and hunger for Formula One.
After much speculation about Raikkonen's future at Maranello the Finn having been consistently out-performed by his vastly lesser paid team-mate Felipe Massa in recent races Ferrari confirmed on Friday that they have extended the 28-year-old's contract to the end of 2010.
"I never said retirement was (an option)," Raikkonen told reporters. "It was not what I said. I said I had a contract for the next year at least and then we see after that. I have a couple more years and we look when the times comes for what happens after that."
"I always had a contract for next year anyway. I never said I was going to retire, it came from you guys. I still enjoy it. I still drive as well as I can."
"Sometimes when the results are not coming it is not such good fun but it doesn't mean that I don't enjoy it. It was not a very difficult choice. I enjoy working with the people, so I am happy."
The announcement means that Fernando Alonso, who was widely tipped to join Ferrari at some point in the next two years, will have to look for an alternative drive for next year should he choose to leave Renault for more competitive machinery.
Raikkonen goes quickest in rain-hit Monza
Gloomy skies and heavy rain greeted the Formula One entourage in Monza this weekend, much like the clouds of uncertainty which currently hang over the outcome of the Belgian Grand Prix – not to mention the violent storm of controversy which Lewis Hamilton's penalty whipped up.
With torrential rain and poor lighting effectively writing off proceedings in the morning warm up – leaving Adrian Sutil on the top of the timing sheets – it was left to the second practice session to shed light on the runners and riders ahead of Sunday's Italian Grand Prix.
Kimi Raikkonen, buoyed by his contract renewal, quickly emerged as the early pace-setter in front of the tifosi, the Ferrari driver finding speed even in the context of a damp track and low temperatures: an environment which has tended to cause problems for the F2008.
As the track improved and the drivers began to switch to dry tyres, team-mate Felipe Massa and the McLarens showed their hands, but Raikkonen popped in a 1:23.861 in the closing stages which was enough to vault him to the top spot, ahead of Robert Kubica and Nick Heidfeld; the BMW Sauber clearly enjoying the high-speed demands of Monza.
Lewis Hamilton was fourth quickest ahead of Williams' Nico Rosberg and Felipe Massa in the sister Ferrari. Heikki Kovalainen once again seemed to struggled to match the pace of his McLaren team-mate, and after losing out badly to Hamilton in qualifying in Spa-Francorchamps – despite carrying less fuel – the Finn will have to up his game in the Ardenne if he is to get back on level terms.
Adrian Sutil was a noteworthy ninth place for Force India, again indicating the advantage of Ferrari grunt around Monza.