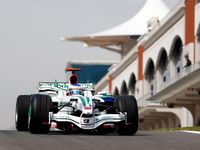 Jenson Button was unable to progress into the top ten in qualifying after struggling to get his option soft tyres to operate at their optimum around the challenging tyre-eating Istanbul Speed Circuit.
The British ace lapped ninth quickest in the morning warm up suggesting that a top ten grid slot was well within in reach.
Come the afternoon though, Button had difficulty getting his softer option tyres up to temperature and wound up thirteenth overall behind team-mate Rubens Barrichello and four tenths shy of the Q3 cusp having been forced to run on the harder prime tyres.
"I have to be reasonably pleased with 13th as we were struggling to get the tyres working in qualifying today," acknowledged the 28-year-old.
"We switched to the option for my first run in Q2 as everyone seemed to be going quicker on that tyre but for some reason the option didn t work for me and I had no grip."
"So we went back to the prime which should be about three-tenths slower around here so 13th is not too bad. It s annoying that we can t get the option to work but our prime tyre pace is very good, particularly over longer runs."
However, Rubens Barrichello sporting a special livery and helmet design this weekend to celebrate his record 257th grand prix start was similarly unable to progress into Q3 despite having a more productive time on the soft options. The Brazilian s qualifying effort suggesting that Jenson Button would have been unlikely to break into the top ten even if he had managed to get to grips with the soft options.
Indeed, Barrichello hinted at a general lack of pace around the Istanbul Speed Circuit rather than a tyre-specific issue: "It was a good effort from everyone today however unfortunately we are not as fast as we thought we might be here in Turkey," the Brazilian veteran explained.
"It is a balance problem, rather than the tyres or grip levels, and I believe we achieved the best that we could today. I could not get the car to perform well over the whole lap."
"Realistically this is where the car is at the moment. We need another step to make us a regular qualifier into Q3."
Steve Clark, Honda s Head of Race and Test Engineering, concurred that it was a disappointing showing from the RA108.
"The issues we had were with the tyres and trying to get grip from the prime or a balance on the option tyre."
"We saw this morning that the two tyres behaved differently and the two drivers split their strategy in Q1 because of this. In the second session neither car had the pace to get into the top ten."
"We had no problems aside from being able to get the most out of the tyres, so obviously this is a disappointment as we felt that we had made a little more progress here."