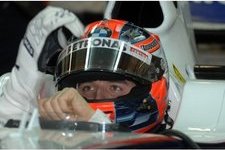 Robert Kubica has said that he could have got third place on the grid instead of the fourth with which he ended Saturday's qualifying session for the Australian Grand Prix.
The Pole, whose BMW Sauber team-mate Nick Heidfeld could only manage 11th on the grid, told the BBC his final run was compromised by dust left on the track from third-placed Nico Rosberg. Prior to that, Kubica said he had been optimistic.
"I did a very good run in Q2 which got me already easy into Q3, that's why in Q3 we were quite confident," he explained.
"But in the last run, when I went out on new tyres, Nico [Rosberg] went wide at Turn 14 and he put a lot of dust on the track. I lost out their massively, my tyres were dirty and the next two or three corners were a disaster unfortunately."
The Krakow-born driver acknowledged, however, that the Brawn GP cars were too fast to catch.
"But anyway I think Brawn was impossible to catch," he said.
Unlike his team-mate Nick Heidfeld, Kubica is not carrying KERS this weekend. KERS is suspected to bring a significant performance advantage in qualifying, and so the inversion of BMW's drivers is perhaps representative of mechanical gremlins on Heidfeld's car.