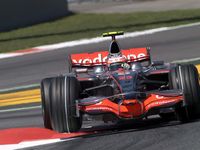 Heikki Kovalainen lifted McLaren hearts on Friday with a sterling assault on the Istanbul time-sheets.
The Finnish ace, who spent most of last week undergoing precautionary medical examinations following his horrific crash in Barcelona, lapped a mere tenth of a second slower than pace-setter Felipe Massa in the morning warm-up – a lap which signified not only his fighting return but also encouraging early pace from the MP4-23.
"It was nice to get back in the car again and everything was fine," enthused Kovalainen afterwards. "I was on the pace immediately and was able to set some consistent lap times. A very productive and positive day."
Due to some trigger happy track-cleaning, the Istanbul Speed Park was soaked to the skin come the start of morning practice. This allied with low track temperatures left the drivers struggling with grip, several losing control and spinning off.
But the tricky track conditions did little to stop Kovalainen – one of the few drivers to keep his car on the black stuff – storming to the sharp-end of the classification.
McLaren Team Principal Ron Dennis, was delighted with the Finn s return to the fold: "Both (Lewis and Heikki) were quick and consistent," he said.
"A special mention to Heikki who went out for the first time since his accident and was fast immediately. We seem to be competitive and look forward to the rest of the weekend," he added.
McLaren arrive in Istanbul on the back of a difficult few races; the Woking concern unable to match the pace of rivals Ferrari, particularly in Barcelona a fortnight ago when they struggled to unlock the full potential of the upgraded MP4-23.
Kovalianen s practice pace, which was reinforced by Lewis Hamilton in the afternoon session, will no doubt buoy the team ahead of tomorrows skirmish with the Scuderia in qualifying.
Indeed, Mercedes-Benz boss Norbert Haug hailed the 26-year-old s performance as the "best message" of the day.
"He is fine and that for us, and I think for the F1 community, is the best message of today," the German told the assembled media. "He came and settled into the car and just continued like he drove the car before – very focussed."
"He had a smile on his face this morning which was very positive. He passed the (medical) test yesterday in a very good manner, so we are all very pleased that he is back and can do a very good job."
McLaren approach the weekend thirteen points adrift of Ferrari in the constructors championship with Lewis Hamilton nine points shy of Kimi Raikkonen in the drivers title.