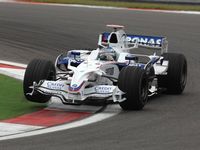 Nick Heidfeld was far from satisfied with his fifth row grid slot but the German managed to shrug off his disappointment by comparing the result to his disastrous outing in the morning warm up.
The BMW Sauber driver scraped into the top-ten shoot out by the skin of his teeth but could manage no better than ninth place at the close, behind Fernando Alonso s Renault as well as the two Red Bull cars.
The 31-year-old had struggled with his tyres, as had most drivers, in the morning session and ended up languishing in twentieth place between the Force India drivers. This was a disappointing result even for BMW Sauber who tend to mask their underlying pace in pre-qualifying warm up.
Reflecting on his qualifying performance, Heidfeld acknowledged that at least his ninth place was a step up from where he was earlier on.
"Of course I m not happy with P9, but I can also see something positive in today s qualifying it went much better than practice did," mulled the veteran F1 driver.
"The sun came out and this helped me to heat up the tyres. My very last lap was actually really good until the final sector when I made a mistake which cost me about three tenths of a second. I think I can move up the field in the race."
With Robert Kubica lining up in sixth place, unable to mount his usual challenge on the McLaren drivers, BMW Sauber suffered one of their worst qualifying results of the year.
However, Kubica showed that the F1.08 is still every bit the threat to the front-runners it was in previous races with the second fastest lap in Q2 on light fuel load. Both drivers reported balance issues when it came to running the longer runs in Q3.
"We are not satisfied with the qualifying result," said BMW Motorsport Director Mario Theissen. "While Robert was pretty quick in Q2 with low fuel, the third and crucial qualifying session did not go perfectly for him."
"Nick was on his last quick lap, and just as fast as Robert in the first and second sector, but then lost time in the final sector."
Willy Rampf, BMW s technical director added that the team had anticipated a better outcome in Q3 following Kubica s sterling lap in the second knock-out session.
"We really expected more after the good performance in the second part of qualifying. Robert did not get a perfect lap, and Nick lost about half a second in the final sector of his fast lap. We expect a difficult race tomorrow."