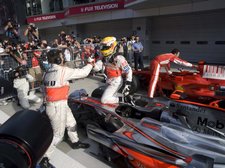 Hamilton takes a step closer to championship glory with the "best pole of his life" in Japan.
Lewis Hamilton dug deep in Fuji to plant his McLaren-Mercedes on pole for Sunday's decisive Japanese Grand Prix, while the best his main championship rival Felipe Massa could muster was fifth.
For most of the final qualifying session it appeared to be advantage Ferrari. A rejuvenated Kimi Raikkonen set a searing pace around the Fuji International Circuit clocking a benchmark time of 1m 18.644, with Massa not far behind.
But a late assault from Hamilton saw him vault into the top spot, while similar performances from team-mate Heikki Kovalainen and Singapore winner Fernando Alonso saw Massa drop to fifth.
"It was the best pole of his life at a critical time – a tremendous effort" McLaren Team Principal Ron Dennis told ITV Sport.
"There is a real team vibe at the moment and we're enjoying the moment, but we're very focussed on tomorrow.
"We gave it absolutely everything through the whole of qualifying. It will be a strategic race no question. The most important thing is to come out with more points than Massa."
Massa's third row starting position could play a pivotal role in the outcome of not only Sunday's race but also the world championship. The Brazilian is currently seven points behind Hamilton in the title race with only three races remaining.
Unlike Hamilton Massa must win at least one of these races if he is to stay in the hunt.
Robert Kubica was sixth quickest ahead of the Toyota's of Jarno Trulli and Timo Glock, while Toro Rosso continued their run of form to get both their drivers in the top ten again.
Both Glock and Trulli had run solidly in the opening two sessions and their respective positions suggest that circuit owners Toyota elected for a sensible strategy at their home grand prix.
That said, the Japanese outfit are currently locked in a fierce championship battle with Renault, and they will no doubt be keeping a careful eye on Singapore GP winner Fernando Alonso who hustled his R28 into fourth place.
It was less of a success story for Toyota's customers Williams though. The Grove-based outfit, who only a fortnight ago were celebrating Nico Rosberg's stunning podium charge in Singapore found themselves languishing in fourteenth and fifteenth, behind Red Bull Racing.
Toyota's Japanese rivals Honda didn't fare much better with Rubens Barrichello just out qualifying Jenson Button for seventeenth, ahead of the two Force Indias.