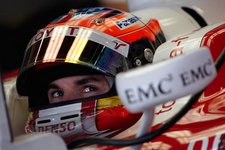 Timo Glock claimed his third career podium in Sunday's rain-hit Malaysian Grand Prix courtesy of a coureagous gamble on his tyres.
When the rain began to fall on lap 21 of the shortened 32 lap race, the field bolted into the pit lane to put the full wet tyres on, but Glock gambled on the intermediate tyres.
The decision paid off since it was a further nine laps before the the full force of the thunderstorm hit the Sepang International Circuit.
In the meantime the leaders struggled on the full wets and Glock was able to pace over ten seconds a lap faster. He climbed into first position before being overtaken by Jenson Button.
The Toyota driver eventually finished in third place after the stewards amended the final classification to reflect the order at the time the red flag was waved.
"It was a tricky race, I have to say, but at the end one of the best races I could ever do," said Glock.
"I struggled a bit at the start, I don't know why we lost so many places. Fernando and Kimi were in front of me in the first corner and I didn't know where they'd come from. I think I was only P8 after the first lap.
"In the traffic it was really difficult. After five or six laps I already saw the clouds were coming and I kept asking 'when is the rain coming?'. They said it should come in the next couple of the minutes.
"Then I thought when it takes so long and we were so close to the first pitstop, I thought I'd take the risk and go to inters because I saw a Ferrari on heavy wets very early and knew they would be destroyed.
"So I said 'come on, go for inters and take the risk', and in the end it paid off In the last two laps with the safety car it was so confusing because my engineer told me when I made the pitstop that I was leading the race, so I thought I wouldn't push because I wanted to save the tyres.
"Then I saw Jenson come out in front of me so I was P2, then I jumped out of the car and everyone said I was P2, and then when I came up here they said I was P3. Hopefully I will now stay in P3, that's what I'm hoping for."