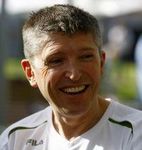 Honda Chief Executive Nick Fry has cast doubt over the sustainability of the deal between struggling minnow Super Aguri and the German Automotive Wiegl Group.
Super Aguri announced on Friday evening that they were on the brink of securing financial investment from the Wiegl Group following the collapse of a deal with the European Automotive Consultant Magma Group a fortnight ago (see separate story click HERE)
However Fry, who helped broker the Magma deal as a result of his friendship with Magma CEO Martin Leach, is sceptical about the proposed Weigl buy-out.
"Since we have been looking for a partner for over a year, it would seem unlikely that someone appropriate is going to appear in the next 48 hours," he was quoted as saying by the Reuters news agency.
"It would appear unlikely that a company the size of Weigl is able to support a competitive Formula One team, unless of course there are other partners of which we have not been made aware," he added.
Super Aguri are understood to be preparing as usual for the Turkish Grand Prix, with personnel due to begin flying out to Istanbul this weekend.
However, while most of the other teams left for Istanbul directly from Barcelona, the Super Aguri cars flew back to Honda's factory in Brackley where they await the green light from Honda.