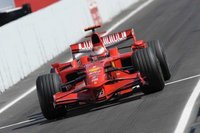 Kimi Raikkonen and Felipe Massa are confident that the F2008 will be better suited to the twisty streets of Monte-Carlo than its predecessor.
Last year the Scuderia were drastically slower than rivals McLaren with Massa finishing a distant third, over a minute behind the silver cars, and Raikkonen unable to climb higher than eighth having made a mistake in qualifying.
The Maranello-based outfit have produced this years challenger with a slightly shorter wheel base which should afford the team with better handling around the principality.
"The Car is stronger at this type of circuit compared to last year. That I know," confirmed Kimi Raikkonen on his official website.
Raikkonen set the fastest lap time during testing at the Paul Ricard circuit last week and the Finn is confident that Ferrari have made improvements ahead of Monaco.
"Last week we had a test in Paul Ricard and it went very well. We tried a few new things and improved the set-up."
Massa, whose running at the French track was hampered by heavy rain on the third and final day, echoed Raikkonen s belief that Ferrari would be better suited to Monaco last year.
"In general, I think the Scuderia is in better shape than it was before this race twelve months ago. I hope so as well!"
"But you never know. Last year, even though I finished on the podium in third place, it was not what I would consider a good race because we were a long way off the pace of the McLaren, so I am looking forward to being stronger this year."
Kimi Raikkonen arrives at Monaco with seven points clear of Lewis Hamilton in the drivers championship, but the Finnish ace is under no illusions of just how close things will be.
"This race will be very open. I feel Ferrari is very competitive with the main competition coming from McLaren and BMW. That said Monaco can throw up a strange result so its the most open of all the races this year."
"Last year we got only one point from Monaco. It did not feel that good after the race, but it was very precious while we finished the season. As usual it's futile to count points now. I think we will get a better picture of the championship after these next two races."