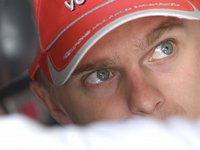 McLaren have released the clearest details yet of the crash that pitched Heikki Kovalainen into the tyre barriers at the Spanish Grand Prix.
It was originally speculated that the Finn's Barcelona accident was caused by a sudden, catastrophic, structural failing of the left-front wheel rim, which pitched him off the road at Turn Nine of the Circuit de Catalunya. McLaren F1 CEO Martin Whitmarsh later added that stones or debris coming into contact with the wheel could have triggered the structural damage, but this was a speculative response based on initial trackside evidence.
An exhaustive investigation into the accident in collaboration with wheel supplier Enkei and the FIA technical team was immediately launched. In true McLaren style, it was meticulous in its rigour: "The investigation not only involved thorough scrutiny of the telemetry data and a microscopic analysis of the surviving components, but also a simulated reconstruction of the event back at the McLaren Technology Centre," Whitmarsh told Forumula1.com.
The investigation conclusively revealed the reasons behind the failure: a central area of the wheel rim had been left unmasked before being sprayed with lacquer a common practice to improve the efficiency and longevity of components. The resulting lacquered surface significantly reduced lock-hold on the wheel rim.
This meant that during the course of Kovalainen's first stint in Barcelona the wheel and axle on his MP4-23 began to move apart under high cornering loads. This movement led to the wheel rim rubbing heavily against the brake drum and eventually caused enough wear and fatigue to trigger a catastrophic failure of the inner lip of the wheel rim. It was an isolated incident but procedures have been put in place to ensure the incident cannot be repeated.
Reflecting on the investigation Whitmarsh concluded: "We now thoroughly understand how the failure occurred; not, as was originally reported, as a result of a wheel failure but by the incorrect application of a lacquering process which was beyond the control of our wheel supplier, Enkei, with whom we have enjoyed a fantastic relationship for more than 10 years."