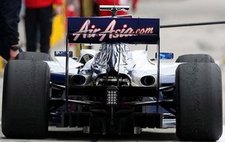 The split-diffuser teams of Brawn GP, Williams and Toyota will retain their advantage throughout the year because of the modifications required to accomodate the device and the ban on in-season testing, rival teams say.
The controversial split-diffusers, which are believed to offer a significant performance advantage in the region of half a second a lap, were declared legal by the FIA at the Tuesday hearing in Paris, despite protests from rival teams.
Teams running regular diffusers, including McLaren, Ferrari, Red Bull Racing and Renault, are now in a race against time to develop their own version of the device – and must do so to have any hope of closing the gap to Brawn GP.
While some teams have already made progress, most notably McLaren and Renault who have interim versions of the design ready to run in Shanghai this weekend, it could be several races before they are on an equal footing with the front-runners due to the scale and cost of the modifications required.
"It is difficult just to bolt on," says Red Bull Racing boss Christian Horner, "particularly in our case, and as an independent team for us it almost represents a B-spec car, so it is a significant change to the rear end of the chassis in order to try and optimise it and integrate it into our design solutions."
"It impacts on the whole rear end of the car in our solutions. It is significant and obviously the only hole it has left us is in our budget. It is a significant amount of cost in not a great climate but the performance you can see today, six of the cars in the top eight are running that solution, so we have to do it in order to maintain our competitiveness."
BMW boss Mario Theissen concurs: "It is definitely not sufficient and not possible to just exchange the diffuser and come with a new solution at the rear under body. We have to redesign the aero package, at least the aero package."
Not only will the teams have to re-design the rear end of their cars to accommodate the split-diffuser, but they will have to do so without the benefit of track and wind tunnel testing following major restrictions on testing this year.
BMW Sauber, Red Bull Racing and McLaren chiefs be live that the split-diffuser teams will consequently retain an advantage over them throughout the season.
"My view is that there will still be an advantage," maintains BMW Sauber boss Mario Theissen. "There is no in-season testing. You can do something on the computer, you can do something in the wind tunnel but your aero package especially should be tested on the track before you race it."
"So this is definitely a handicap. On the other hand, the teams who have the two stage diffuser are not sitting there leaning back, they are developing like us, so I don't expect us to be up to the mark at one stroke in Barcelona."
Red Bull's Christian Horner concurs that developing the new design is a huge challenge. "It's a big challenge to develop a car without any testing, so it really stretches the team and obviously if you take a component to the track, you've got to take four of them because you've got to supply both cars and also have spares as well."
"I've never seen as much hand luggage as I did when I came through the airport into Shanghai yesterday. I think McLaren had about 18 boxes; we weren't far behind and I think that will be a trend for the rest…"
Mercedes-Benz boss Norbert Haug meanwhile has rightly pointed out that the split-diffuser is only one of the factors helping Brawn GP to dominate this year.
"It is the whole package," he said when asked why Brawn GP were at the front. "It would be too easy to say 'put a perfect diffuser on a car and then you are there.' It's not that easy, it's the whole package, but I think we all have to realise is that this car was built over a very long period of time. Other people were still fighting for the current World Championship."
"This is not an excuse but it should be an explanation and the sooner you could concentrate on this year's car, the more you could invest in it aerodynamically and so on. These guys did a good job. I think they had really good equipment, good people and it's the whole package at the end of the day."