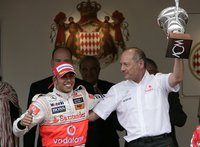 McLaren chief rubbishes Ferrari bias claims ahead of Hamilton hearing and puts his trust in the FIA again.

One year on from the trauma and intrigue of 'spygate', McLaren's Ron Dennis will find himself before motorsport's supreme governing body, the FIA, once again next week as he and his team attempt to vindicate Lewis Hamilton of wrong doing in the Belgian Grand Prix.
After the precedent of last year's scandal and the ramifications that followed for Dennis and his McLaren institution, you might forgive the 61-year-old a man resolute in his commitment to equality for having reservations about a body whose regulation of Formula One has, in many peoples eyes, for too long been marred by inequality.
Hamilton has felt the full unflinching wrath of the stewards no fewer than five times this season after all, while Ferrari have managed to escape penalty in circumstances where others have fallen foul most notably in Valencia when Felipe Massa was cleared of being released 'unsafely' into the path of another driver in the pit lane.
And Hamilton's reprimand in Belgium a twenty five second penalty for cutting a chicane during his titanic duel with Kimi Raikkonen caused global outrage amongst fans and enthusiasts who saw the decision as a further illustration pro-Ferrari bias.
But Dennis, who confirmed after the grand prix that McLaren would appeal against the stewards decision, insists that he has complete faith in the FIA ahead of next week's hearing in Paris.
"Although Lewis has had five penalties already this season, I wouldn't claim that he hasn't been treated fairly," the Englishman told Le Parisien in an interview with the esteemed French journalist Stephane Samson.
"More importantly, we have to have faith in the system, and in the fairness of the FIA International Court of Appeal in which our appeal will be heard," he added.
Dennis confirmed in the interview that McLaren will appeal the decision on three grounds. Firstly, that his excursion across the chicane was evasive and necessary to avoid a collision. Secondly, and perhaps most crucially, that he gained no advantage in doing so, since he allowed Raikkonen to repass him on the straight. And thirdly, that Hamilton's eventual overtaking manoeuvre on Raikkonen in the following corner was an entirely separate move.
Hamilton's multiple dealings with the stewards this year have caused some to suggest that the Briton has begun to lose his way in Formula One. But Dennis has been quick to defend his driver, insisting that this is part of the process that his protégé will have to go on his way to becoming a world champion.
"No-one – not Michael Schumacher, not Ayrton Senna, not Alain Prost – has ever gone through an entire season without a single error," he said.
"But Lewis's improvement is ongoing and incremental; just as he's better this year than he was last year, so also is he better at the end of this year than he was at the beginning of this year."
"And I expect him to be better still next year. He's still only 23, remember, and no-one has ever yet won a Formula 1 world championship at such a young age. Not Emerson Fittipaldi, not Michael Schumacher, not Fernando Alonso."
"I'm not saying Lewis will win the championship this year for sure – maybe he will, maybe he won't – but if he does he'll become the youngest man ever to have done so."