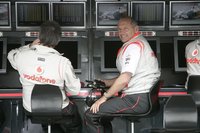 Ron Dennis has ruled out German car manufacturer Mercedes-Benz taking control over the McLaren team in the near future. There have been persistent rumours around the F1 paddock that Mercedes-Benz are looking to increase the 40 percent shareholding that they currently have in the team however Dennis has said that the manufacturer are happy with the current setup and are not planning to make increase their stake in the F1 team.
When asked by Italian newspaper Corriere della Sera whether Mercedes were looking to increase their stake in the team, Dennis replied, "No I don t see the point. Things are fine as they are. Each year, we discuss our plans together and we are agree on everything."
Dennis has also revealed that despite contemplating retiring or decreasing his involvement with the sport at the end of the season, he will not be changing his current role.
"In early 2007 I was thinking of becoming less involved in the races. Then what happened, happened, and I didn t want to leave on those terms. Sooner or later something will change because I have other things planned. But I will not give up the team totally I ll just change my role in the team. McLaren is in my blood, and I am not an employee so no-one can fire me!"