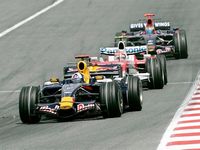 David Coulthard a driver who is quickly gaining a reputation as something of an accident in waiting through no fault of his own has hit out at his latest assailant Timo Glock with a lesson in F1 s basics.
The Scott s Red Bull was once again a moving target in Barcelona with Adrian Sutil and later Timo Glock both colliding with the RB4 following over-ambitious overtaking attempts.
It was Timo Glock s Toyota that ultimately forced F1 s elder statesman out of the fray with a plunge up the inside at Catalunya s tight Turn 5 that left the stricken Red Bull with a puncture.
In his latest column for ITV Sport the Flying Scotsman lashed out at Glock with a patronising explanation of the racing line.
"I think he said "the door was open and then it closed" well that s called a racing line, which the first racing drivers invented many, many years ago," groused the 37-year-old.
"A racing line will always involve taking a wide arc on entry to a corner and cutting the apex to give you the largest radius and thereby maintain as much speed as possible."
"But maybe in Germany or GP2 they have a different philosophy!"
Despite a similar incident on the first lap with Force India s Adrian Sutil, Coulthard had managed to scythe his way through the field and was running as high as ninth place having qualified well down the pecking order in seventeenth place.
The collision ruined his chance of points not least because he didn t notice the puncture until after passing the pit-lane: "The collision nicked my left-rear tyre, but unfortunately by the time the team saw the slow puncture on the telemetry I had literally just passed the pit lane entrance, so I had to do a slow lap back to the pits and lost any chance of a decent result."
It is not for the first time this season that Coulthard has found himself on the receiving end of a barrage of rival carbon-fibre.
In the season curtain-raiser at Melbourne he was forced into the gravel by Ferrari s Felipe Massa and at Bahrain last month the Scott collided with fellow Brit Jenson Button while again defending his position.