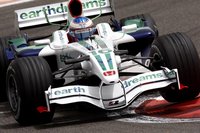 "I'm not worried," was the message that Honda's Jenson Button fired to Fernando Alonso both on and off the track at Valencia.
Speculation about Alonso's future reached fever pitch in the F1 paddock at Valencia after Rubens Barrichello confirmed on Thursday that Honda are stepping up their efforts to lure the double world champion to the team for 2009.
Jenson Button, Barrichello's team-mate at Honda and the man least at risk of losing his seat should Alonso join the Brackley-based outfit, revealed that he would be happy to race alongside the Spaniard next year.
"They are going to talk to other drivers, that's only natural. But I'm very happy with my position within the team," he told reporters at Valencia. "I'm not worried about myself. In a way it's a good the team are talking to someone like Alonso who has a lot of experience, and with good teams."
Then came the on-track response from the British star. Well and truly out-performing the capabilities of his Honda RA108, Button stormed around the new 5.4km street circuit clocking a stunning 1m 39.456, less than a tenth shy of pace-setter Kimi Raikkonen and a whisker short of the man who could be lining up alongside him next year.
"It was good to finally get out on the new Valencia street circuit today after previously experiencing the lap on the simulator and having a closer look during our track walk yesterday," declared Button.
"We were struggling with very low grip this morning and I'm sure that was the same for everyone out there. The track is very dusty and if you go offline, your tyres are quickly covered in dirt, which makes it difficult to be consistent."
"We made a lot of changes to the car this afternoon which have proved positive and provided a great deal of useful information to study this evening. It was nice to do a quick lap at the end on the option tyre. Hopefully we can further improve the car overnight and be reasonably competitive for qualifying tomorrow."