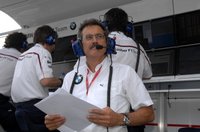 Nick Heidfeld is under increasing pressure to retain his seat with BMW Sauber in 2009 after being consistently out-shone by team mate Robert Kubica this year.
The latest murmurings in the paddock are that BMW are on the brink of signing GP2 star Bruno Senna for next year. The Brazilian, who is currently locked in a fierce battle for the feeder series' crown for iSport International, is in talks with BMW Sauber to become a test and even race driver for the team next year, according to German publication Sport Bild.
The magazine claims that Gerhard Berger, a long-standing friend of the Senna family and Bruno's guardian in motorsport, was in discussions with BMW Motorsport Director and former colleague Dr Mario Theissen about the Brazilian's future. "Senna is determined to get a test, and then BMW will decide," an insider was quoted as saying by Sport Bild.
Heidfeld, who held the upper-hand over Robert Kubica last year having out-qualified the Pole 12-4, has had a wretched start to his 2008 campaign after struggling to get the best out of his Bridgestone tyres in qualifying.
Kubica meanwhile has emerged as one of the hottest properties in the driver market after racketing up a string of podiums, not to mention his maiden victory in Canada. The Pole, who has been revelling behind the wheel of his traction control less F1.08, currently sits a mere two points behind championship leader Felipe Massa, ahead of both McLaren drivers and Kimi Raikkonen.
Heidfeld has been working hard to overcome his problem with heating up his tyres and was buoyed by his qualifying effort in Magny-Cours in which he lapped within a tenth of a second of his team-mate in Q2. But he acknowledges that it situation is still far from ideal.
"I hope as you say that it will at least continue like in Magny-Cours when I was 0.060 seconds slower than Robert in Q2 which was acceptable; of course not my target, but at least better than the last couple of races," the German told reporters after a productive three-day test for BMW Sauber at Silverstone.
Heidfeld was also confident that the team had made improvements to the car since their below-par performance in France.
"Robert (Kubica) already said it looks like for Magny-Cours we made one or two wrong choices," he said.
"Unfortunately because Magny-Cours lap times are always close together and although not knowing the fuel levels of the others, here it looks more normal again. It looks unfortunately right now that McLaren and Ferrari are quicker but we should be third or fourth again we are looking not bad."
For the time being at least, Heidfeld's place in BMW is secure, as underlined by recent comments issued by BMW Motorsport Director Mario Theissen:
"We have given him much support over the past weeks," affirmed Theissen. "The situation is not easy for Nick because he must try to get to the same level as Robert, but at the moment he (Kubica) is quick in every situation."
"We will decide in the summer [about the 2009 driver line-up], probably in the second half of August, but it could also happen sooner or later."