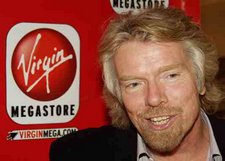 The Virgin Group's rumoured buy-out of Honda Racing has taken a knock with Richard Branson saying he will not get involved in Formula One until the sport becomes greener and more cost-effective.
The British entrepreneur emerged as a strong candidate to take over the beleaguered Brackely Based outfit after Bernie Ecclestone welcomed the Virgin Group's interest in Formula One and said he was talking directly with the company to facilitate the take-over [see separate story HERE].
But Branson has put a dampener on the deal saying that Formula One will need to become more financially viable to companies such as his, as well as more and environmentally friendly, before he considers moving into the sport.
"I love grands prix," Branson told BBC Radio Five Live. But he added: "If Bernie Ecclestone can make it more cost-effective for the likes of the Virgin brand to come into the sport, and if he can champion clean motor-car racing – which is possible to do by making sure all the cars run on clean fuels -then at some stage we might be interested in getting involved."
"I think there are faults that would need to be rectified before we could go into F1."
Branson did not deny that he was in discussions with Honda Racing however. "If we are in discussions then I wouldn't be allowed to say so, because there would be some kind of clause that would prohibit me talking about it," he said.
Honda Racing chiefs, who have less than a week to secure the team s future following Honda s withdrawl from the sport at the end of last year, are expected to make an announcement on Monday as to whether they have secured a buyer or not. Honda's board in Japan will meet this week and could disband the outfit if a buyer is not found.
One option that is at least likely to make it to the table is a management buyout by current bosses Nick Fry and Ross Brawn using the team's current income from television rights.