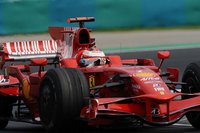 Out-of-form defending world champion Kimi Raikkonen may have won the support of Ferrari president Luca di Montezemolo and F1 boss Bernie Ecclestone, but the bookies, it would seem, are less than convinced that a change in form is imminent.
Formula One heads to Spa-Francorchamps next week for the Belgian Grand Prix, a race that Raikkonen has dominated on the last three occasions, taking wins for both Ferrari and his former team McLaren.
Despite Raikkonen's thriving affiliation with the undulating high-speed circuit, his recent lack of form has put a fourth consecutive win in serious doubt.
The troubled Ferrari driver, who was told last week that his seat was safe next year despite widespread speculation about his future, has not won a grand prix since April. To make matters worse he has been consistently out performed from across the garage by team-mate Felipe Massa, particularly in qualifying which has compromised him on race day.
Raikkonen's results have called into question his motivation for Formula One with rumours suggesting that he could retire at the end of the season.
Sports betting and online casinos have become increasingly popular with Formula 1 aficionados during the 2008 season, with an ever increasing number of fans placing bets online. The betting market for the Belgian Grand Prix tells you pretty much all you need to know about his perceived hunger for victory next week. The Ferrari driver has drifted to 5/2 to take the race win, behind team-mate Felipe Massa (2/1) and favourite Lewis Hamilton (15/8).
Massa is also considered to be better placed to take the world championship for Ferrari now that he has surpassed Raikkonen in the points table.
Raikkonen, however, is determined to get his championship campaign back on track: "We have to try and do everything as well as possible to get back to winning again, starting with the race in Spa," he said.
"The world championship? I will give it my best shot and then we can count the points at the end."
The reigning world championship has also received endorsement from F1 supremo Bernie Ecclestone who believes it will only be a matter of time before he returns to the top step of the podium.
"He is a super talented driver, and I just can't believe that the way he's driving at the moment is Kimi," Ecclestone told the BBC.
"He's always been quicker than Massa. Massa's quick, but Kimi shouldn't be that far behind."
But with Felipe Massa fresh from victory at Valencia, and Lewis Hamilton fully recovered from his neck problems, rest assure that Raikkonen will have to work hard for his fourth win in the Ardenne.