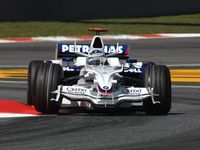 Not content with being one of the "big three", BMW Sauber are intent on hunting down the Scuderia in Istanbul having declared themselves on par with rivals McLaren.
The Hinwil and Munich squad were unable to score their fourth consecutive podium at Barcelona last week with Nick Heidfeld losing out to the safety car and Robert Kubica unable to make an impression on Lewis Hamilton, despite hustling the Briton's gearbox throughout the race.
The team are nevertheless confident that they have taken a step forward in performance and have matched rivals McLaren for pace.
"The race in Barcelona showed the order at the top has not changed," says BMW Sauber's Technical Director Willy Rampf. "Ferrari still has the advantage, while McLaren Mercedes and the BMW Sauber F1 Team are practically on a par."
"It's so close that the slightest modification could swing the pendulum either way. That's why we are pushing our development forward at full speed."
Mario Theissen, BMW Motorsport Director, confirms that Ferrari are very much the target in Istanbul next week: "Our targets for the Turkish Grand Prix are clear: we want to consolidate our position among the leaders, where Ferrari is currently the yardstick," says the German. "For the fifth race of the season we will be making detail improvements to the F1.08 again."
BMW Sauber continue to adopt an incremental race-by-race approach to development and Willy Rampf is adamant that this has been key to the team's rise to the sharp-end of the F1 field.
"In principal we keep the same: bringing new components for each race and up to now we have been able to do so and we still want to do it," he explains.
"We don't think that waiting for a huge update to be ready and developed is the right thing for us. That's our opinion. We believe more in optimising the car as it is because the car still has potential for further development."
BMW's disappointing showing at Barcelona in comparison to the first three fly-away races leaves the team second in the championship ahead of the Turkish Grand Prix next week, twelve points adrift of Ferrari and only one point ahead of McLaren.