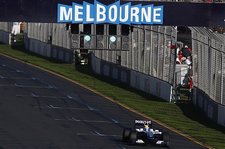 Drivers: Fernando ALONSO (Renault), Sebastien BUEMI (Toro Rosso), Lewis HAMILTON (McLaren Mercedes), Mark WEBBER (Red Bull).
PRESS CONFERENCE
Q. How have the first official practice sessions been for you? Mark, can you give a rough run down of how it has been?
Mark WEBBER: It didn't go that well in the first session. We didn't get that many laps in. We had a problem with the seal on the drive shaft and obviously we were pretty keen to do a bit more running in the second session which was going to plan until we had another small problem with the exhaust. Certainly not ideal in terms of reliability today, but not too bad pace-wise when we are out there. We will see how it goes for the rest of the weekend but reasonably encouraged. I have not really had a decent look at the times to be honest because I had to come straight here, so I don't know what else went on with other people, but we got on okay.
Q. Sébastien, how was your first day?
Sébastien BUEMI: Everything was new for me today and I had to discover a lot of things. But I would say that the first practice went quite well and we did a lot of laps. You have got to learn the circuit as it is quite tricky out there. In the second session we had some small issues, but in general I am quite happy with how it went. I still need to learn a lot of things, so for the moment we are working hard and we will see what we can achieve tomorrow.
Q. Fernando?
Fernando ALONSO: It was fine. Obviously the first day is always difficult starting the championship with many things to discover in terms of the car. It is also the first time we test in warm conditions after being in winter in Europe, so useful information always on Friday. We try to analyse all the information tonight and tomorrow and hope to have a better car. That is quite normal between Friday and Saturday, we test a couple of things overnight.
Q. Lewis?
Lewis HAMILTON: My day has not been too bad. It is great to be back. Obviously we are not as quick as we would love to be but we are working very hard and we got though quite a good programme and made some decent steps for us at least. Don't really know what everyone else is doing on the track but I am happy with what we have done today.
Q. Lewis, we heard you say that the car was bottoming all the time and was really very difficult to drive.
LH: Yeah, it is a very bumpy track, so I think at the time we were just a bit too low. That's what happens when you are on heavier fuel, so we will make some changes to make sure that doesn't happen anymore.
Q. You were very quick on the straight as well, fastest by about two or three kpm. Does that suggest you are not running a lot of downforce?
LH: No, it just means we have got a good Mercedes Benz engine.
Q. But where is the car lacking as testing has not been particularly good?
LH: In general it is a good car, it is just general lack of grip everywhere pretty much. It is not particularly one area of the track, it is everywhere. We cannot carry the speeds through the corners that we would like. It is predominantly aero and we are working very hard. We have made some steps forward with it and for sure the gap to the others is nowhere near as big as it was back in Barcelona but we have still got a long way to go. The guys back at the factory are working very hard to rectify that. There is no quick fix. It is going to take some time.
Q. Were you still trying new bits today? Is there still a flow of bits coming from the factory?
LH: No, today we didn't try any new bits. We had everything we needed on but I am sure over the course of the first few races that there will be some new bits coming.
Q. How much were you using KERS today and how much were you adjusting the front wing?
LH: I didn't use the front wings, it wasn't beneficial to me today as I didn't need it. With the KERS we use it. You use it over a lap. On the longer runs it is learning how to manage it but we don't seem to have any problems with that.
Q. Fernando, same question to you. How much were you using the front wing adjustor and how much were you using KERS?
FA: Same answer. KERS every lap and the front wing I didn't touch it today.
Q. Do you think you might use it more in the race?
FA: No.
Q. How different did the car feel today compared to testing?
FA: No big difference. I think every track is a bit different and you need to adapt the set-up a little bit to the track and also to the conditions. Today it was very windy and we expect some windy conditions for tomorrow and Sunday, so we need to accommodate a little bit to that and we need to do small set-up changes also for that. It was the same in the winter from Portimao to Barcelona to Jerez, always different tracks. Some of them a little bit bumpy, some of them slow speed corners or high speed corners, so small things that you always adapt to the track and today we tried to work on that. We came from a set-up more or less similar to what we thought was the right one from the last test in Jerez and regarding last year's set-up here as well with last year's car, so between everything we choose our set-up and now we are just tuning a little bit.
Q. For the first time here you have run late afternoon at the sort of time the race is going to be run. What was the visibility like, particularly going down into turn three?
FA: To be honest, it was a little bit worse than practice one and compared to last year as well as the sun is quite low at this time. It is a little bit worse but it is not a big problem and hopefully it will be fine for everyone, but there is no doubt that it is better at 2 o'clock for us in terms of visibility.
Q. Is it a problem in terms of braking points for example, as sometimes it is in shadow and sometimes it isn't?
FA: No, but as I said, because it is that low in terms of looking to the mirrors and some of the corners you don't see as clearly as you see at 2 o'clock in P1. But it was not a huge problem and it will be fine, I am sure.
Q. When there are loads of cars around you is that going to be an issue in the race?
FA: Hope not. If you have all the cars behind you it is even better, so that is what we have to try.
Q. Sébastien, what has been the biggest surprise about F1 for you now that you are actually taking part in the session as you have been doing GP2 and been in the paddock a lot and you were the medical car driver for three races last year.
SB: I would say that there is quite a bit of difference, but in a weekend like that everything goes fast even if we think we have got three hours of testing. But with all the stuff we have got to test you need to keep your head cool and analyse everything. We didn't do so much testing with the new car, so for us it was like a proper testing today. It is going to be a test for us all weekend, so we are going to test all the stuff on the car and try to understand it as we didn't run much in Barcelona. But I would say everything goes fast and you need to analyse everything.
Q. This is one of not very many circuits you don't know. I guess the medical car experience was quite useful.
SB: Yeah, it was useful at the end of the season on the last couple of circuits. This circuit was new to me. It is not a street circuit, but it is not a proper circuit, so it is really green and you have got a big improvement in the first session, so you need to understand well if it is what you change on the car or if it is the circuit or if it is yourself, so you have got to analyse everything.
Q. But you feel you have made a fairly good transition from GP2 to Formula One?
SB: We had slick tyres in GP2, so it is not such a big change anymore. In GP2 you work with one engineer and you work with like 15 in F1, so it is bit more tricky, but I would say that driving the car is not such a big difference. It is a faster car for sure and you have got the best drivers in the world, so you have got to be doing everything perfect if you want to be up there.
Q. Mark, your fastest lap time was fourth fastest and the only non-diffuser car in amongst there. What was that lap like?
MW: Pretty good. We did a few laps around it as well but as the other guys said we are chipping away on the car and trying to improve it. We were dealing a little bit with the wind as well and all the normal things that you have on a track like this on a Friday, so it wasn't too bad a lap. I was a bit little surprised to be there to be honest but we will see what fuel loads people run tomorrow.
Q. Do you think you can do it again tomorrow?
MW: No.
Q. Why not?
MW: Because other people will go faster, I think.
Q. How's the leg holding up?
MW: Very good, very good. Luckily it doesn't give me much grief in the car. The biggest challenge is walking up and down thi