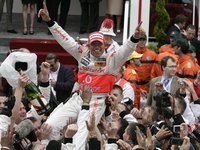 It was perhaps inevitable that Lewis Hamilton's sensational victory in Monaco last week would evoke comparisons between him and the late great Ayrton Senna. Indeed, only twenty-four hours before the race Hamilton was explaining to reporters how he wanted to emulate his childhood hero's success at the Principality.
But was his charge through the rain-soaked chaos on Sunday really as Senna-esque as the press made it out to be?
We now know just how lucky Lewis Hamilton was to have escaped the clutches of Monaco's causality list. The McLaren driver was nursing a punctured right rear tyre on the slow-down lap. Had the race ran to its scheduled 78 laps rather than the time-constrained 76 – and by implication, had Coulthard and Rosberg elected not to throw their cars into the Monte Carlo armco – than Hamilton could well have come a cropper.
Then there was the brush with the barrier in the opening laps which caused his first puncture. Hamilton was fortunate on several counts: it didn't rip the wheel to pieces; it happened at the end of the lap; the unscheduled pit-stop enabled McLaren to fuel his car to the brim; and the colossal spread between the front-runners and the rest of the pack dropped him only as far back as fifth.
Come the time of the safety-car a few laps later, Hamilton was right back in the hunt and sitting pretty on a brimful of petrol which would see him beautifully through to the pit-stop window for dry tyres.
Lucky? In a word yes. That is not to say that the drive was neither impressive, nor worthy of association with the legendary Senna, but rather to account for its impressiveness in a different way.
In Formula One, and indeed sport in general, there is a certain truth in the saying that you have to make your own luck. You don't just benefit from chance, you then have to capitalise on it. A lucky net-cord is only as good as the following point, for it almost certain that the guy on the other side will enjoy a similar strike of fortune later in the match.
And that is what is truly remarkable about Hamilton's Monaco triumph; the way he was completely and totally unfazed by the incident (how many times have we seen Massa succumb in times of similar hardship?) and the way he seized upon and squeezed every ounce of good-fortune out of the events that were unwillingly bestowed on him.
He knew he would struggle on a fuel-laden car so he pushed, and kept on pushing, for all he was worth – he wanted the win and nothing else would do. Anyone fortunate enough to have the live timing screen in front of them would have seen it light up like a Christmas tree as Hamilton set purple sector after purple sector in a bid to build up enough of a cushion to leap-frog Felipe Massa and Robert Kubica. He turned things around in spectacular fashion and set some mind-blowingly quick laps in the process.
In short, and god forbid that a Brit should be making such a comparison, it was classic Schumacher.
Some say he was lucky, others say he made his own luck. Either way, the German was brilliant at turning moments of misfortune to his advantage. To the point of extreme, his title-deciding clashes with Hill in 1994, Villeneuve in 1997 and then his infamous Monaco parking incident all share a similar cause; in the heat of the moment, Schumacher was calmly, rationally, and deviously thinking, 'what can I do to turn this to my favour?'.
Schumacher made things happen, even when they shouldn't. It is a quality that Hamilton has in abundance. Take his magnificent drive in Turkey, or some of his sensational start line manoeuvres. The youngster has given a whole new meaning to the sporting equivalent of carpe-diem .
And those blistering laps before his final pit-stop in Monaco? Pure Schumacher-style 'stint-lapping'; he was given a target, he knew what he needed, and he delivered in awe-inspiring fashion.
That is why his charge to the steps of the Royal Palace in Monte Carlo was truly great.