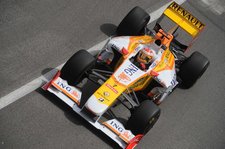 Fernando Alonso set the quickest time in final practice as the teams gear up for the crucial qualifying hour in Monte Carlo.
The Spaniard set a fastest time of 1:15.164 around the twisty street circuit after switching to the super soft tyres in the closing stages, pipping Jenson Button by a mere 0.069 seconds.
McLaren continued to run strongly with Heikki Kovalainen in third ahead of Rubens Barrichello, while Lewis Hamilton set an impressive pace on the longer runs before winding up in seventh place overall.
Ferrari also appear to be back in the hunt with Felipe Massa and Kimi Raikkonen in fifth and sixth place.
A mere two tenths of a second separated the top seven drivers paving the way for an epic scrap for the first rows of the grid in qualifying in less than two hours time.

1       Fernando Alonso         Renault         1:15.164
2       Jenson Button           Brawn           0:00.069
3       Heikki Kovalainen       McLaren         0:00.114
4       Rubens Barrichello      Brawn           0:00.122
5       Felipe Massa            Ferrari         0:00.129
6       Kimi Räikkönen          Ferrari         0:00.218
7       Lewis Hamilton          McLaren         0:00.225
8       Sebastian Vettel        Red Bull        0:00.558
9       Nico Rosberg            Williams        0:00.594
10      Mark Webber             Red Bull        0:00.821
11      Kazuki Nakajima         Williams        0:00.939
12      Adrian Sutil            Force India     0:01.064
13      Sebastien Bourdais      Toro Rosso      0:01.137
14      Giancarlo Fisichella    Force India     0:01.153
15      Nelson Piquet           Renault         0:01.218
16      Sebastien Buemi         Toro Rosso      0:01.268
17      Timo Glock              Toyota          0:01.363
18      Robert Kubica           BMW             0:01.435
19      Nick Heidfeld           BMW             0:01.497