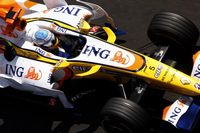 Buoyed by an impressive showing in front of his home crowd in Barcelona albeit one which was marred by engine failure on race day Fernando Alonso is intent on launching another "aggressive" assault on the front-runners at this weekend s Turkish Grand Prix in Istanbul.
The double world champion dazzled his Spanish fans, as well as the paddock, with an awe-inspiring charge to the front-row in qualifying, lining up ahead of both McLarens as well as Ferrari s Felipe Massa.
While it emerged that Alonso was running a considerably lighter fuel load than his rivals, Renault s improved handling and performance was plain to see in the hands of the man from Oveido.
And although an engine failure in the race ultimately pulled the trigger on the 26-year-old s podium hopes not to mention the dreams of his 100,000 Spanish supporters lining the Circuit de Catalunya Alonso remains confident that Renault s step forward in performance will help him challenge at the front again in Turkey.
"It was clear from the beginning of the weekend that we had made progress in Barcelona and I said that this was thanks to the efforts of the whole team who have worked very hard in the last few weeks to get us closer to the leading pace," enthused the Spaniard.
"This is only the first step and we will have an aggressive approach for the races to come with further new developments. I know it will not be easy, but I am sure that we will now be able to have some exciting races, and as a driver I want this more than anything," he added.
Renault, who only two years ago saw of rivals Ferrari to seal their second world championship, have had in comparison a disastrous start to the 2008 season with both Fernando Alonso and Nelson Piquet struggling to qualify in the top ten.
But all the signs are that an extensive upgrade to the R28 over the spring break has helped to lift the Enstone-based outfit out of the midfield and into touching distance of the front-runners.
"When we went testing in Barcelona before the Grand Prix, we only knew what improvements we had made to our own vehicle, and we had to keep in mind that all the other teams would have new upgrades coming for the first European race," explains Renault s Technical Director Pat Symonds.
"So although we were confident that we had improved, all that really mattered was how much we had improved compared to the others. It was still not until Saturday afternoon and qualifying that we had a true idea of where we stood.
"So to get both cars into the top ten in qualifying was a big relief; we now know that the pace really is there relative to the others."