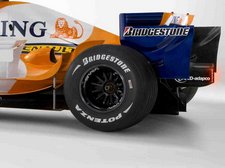 Renault have warned that 2009 might be the last time they compete in Formula One. Surprisingly, CEO Carlos Ghosn s comments weren t aimed at the controversial budget caps but instead were aimed at the distribution of income.
Ghosn is thought to have told a French parliamentary committee that as the teams are the ones who create the F1 spectacle, they should be the main financial beneficiaries of it.
"It is us who make the show, who bring the technology, the engines; who engage the pilots," he told AFP. "So if we are making the show, it is necessary that the income returns to us."
Motorsport-total have also revealed that in a letter to their suppliers, Renault have warned that they may not be participating in F1 next year.
"Renault Sport can no long be sure of its long term business outlook in the face of these challenges," Renault s letter began.
"Renault Sport must not only substantially reduce its activity, budget and therefore its list of suppliers, but may even decide, in the worst case scenario, as mentioned by Bernard Rey and Flavio Briatore on 13th May, not to compete in the Formula One World Championship in 2010.
"Given this context, and in the interests of offsetting any possible drop in business volumes on our part for you firm, it is your prerogative to adopt whatever measures you see fit to ensure the continuity of your business, such as commencing a search for alternative clients, other markets or diversifying."