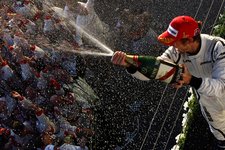 Jenson Button won Sunday's rain-stopped Malaysian Grand Prix, with Nick Heidfeld second and Timo Glock third. Button's win was all the more satisfying considering the lottery the race had become by the time it was red-flagged on lap 31.
Button's race was exemplary despite its brevity. He was on top of the conditions at all times – in the dry, in the intermediate drizzle, and in the sodden wet. He was one of the only drivers whose performance was not determined by well-timed tyre calls from the team, although in that respect he too had some luck. But it is a mark of the level of performance of the Brawn car and Button's drive itself that his race was unlike the others.
Second-placed Nick Heidfeld had had a torrid weekend up to the finish of the grand prix, which was his and BMW Sauber's reward for being on the right tyres at the right times as the weather changed and changed again. Similarly, the Toyotas of Glock and Trulli would have been competitive anyway, but Glock's charge through the field on intermediates highlighted how important the right rubber was in Malaysia today for him.
Other performances to stand out were Nico Rosberg, whose race was sadly ruined by bad luck. Mark Webber and Lewis Hamilton were tremendously entertaining as they diced together as the rain began to come down. But the severity of the conditions made judging car and driver form very difficult once again.
A team distinguished by their mistakes this weekend was Ferrari. The team miscalculated yesterday, resulting in Massa not making the second qualifying session, and today's blunder was putting Raikkonen on full wets when the first spots of rain appeared on his visor. The motivation for it was presumably that the Malaysian rain comes down in buckets once it has started, but for Malaysia, today's storm was gradual.
Intermediates would have been a better choice for the Finn in hindsight, but a rumoured KERS problem later effected his retirement. Two themes are beginning to characterise Ferrari's season – errors and unreliability.
None of which affected the Brawn team, serene in their progress at the front of the pack. With all things considered the others appear to be closing the gap but with inspired performances like that of Button today, and the little bit of fortune one often needs to win world championships, Brawn and Button are still well on top.