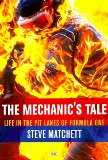 Steve Matchett: The Mechanic's Tale
The Mechanic s Tale is a follow-up to Matchett s book, Life in the Fast Lane. The book is well-written and entertaining throughout, telling of a young mechanic and his life from apprentice through to Ferrari mechanic and his later success with the Benetton F1 team.
There are plenty of eye-witness accounts of all the greats of the era from Michael Schumacher to Nigel Mansell, Alain Prost to Ayrton Senna. Matchett writes with wit and intelligence and provides an excellent overview to what life is like in the fast lane. Despite this, the book is not chronological or a collection of racing adventures it is semi-autobiographical so Matchett also takes us through some personal, non-F1 related memories such as an ill-fated ballooning trip.
Technology in F1 moves so quickly that the book is now slightly out-dated however even if you are not a Formula One fan, this book is an excellent read and comes highly recommended.
Buy Steve Matchett's Book 'The Mechanic's Tale' here