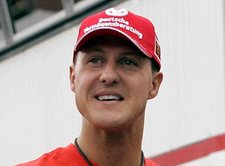 Seven-time world champion and Ferrari consultant Michael Schumacher has said he believes countryman Sebastian Vettel to be blameless for the accident the 21-year-old had with BMW Sauber's Robert Kubica yesterday.
Vettel's tyres were dropping off rapidly towards the end of the race and he defended his second place position a little too resolutely, which resulted in the Red Bull and the BMW coming together and both their retirements. Vettel subsequently apologised to his team and to Kubica, and received a grid penalty for the next race.
But Schumacher – no stranger to on-track incidents in his own career – told German newspaper Bild that Vettel was not at fault.
"He (Vettel) was on the inside — he couldn't make his car dissolve into thin air," the legend said.
Schumacher's comments follow those of a number of pundits, more or less of the same opinion. Vettel's tyres, in the condition that they were, yielded little grip so that by the time Kubica turned in the young German could not prevent his Red Bull from making heavy contact.
However, the penalty is probably a reflection of the fact that Kubica's outstanding race was ruined through no fault of his own, and that he was on far superior rubber at that time in the race and could have passed the Red Bull prodigy at any point.