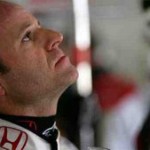 Rubens Barrichello has hinted that he will leave the sport if his Brawn GP team favour Jenson Button this season.
The Brazilian, who came second to his team-mate in yesterday's Spanish Grand Prix after staying on a three-stop strategy, was bitterly disappointed that he could not convert an early lead.
"If I get the slightest sniff of the fact that they have favoured Jenson, I will hang up my helmet tomorrow," he told motorsport channel SpeedTV.
"I have had experience of that and if it happens I won't follow any team orders. I'm making this clear now but we have a much more friendly situation in this team," added Barrichello, who played the role of Michael Schumacher's second for years at Ferrari.
But Barrichello refused to make excuses for his performance in Barcelona, saying that he was as much to blame as the strategy.
"There's no way I'm going to be crying and saying I should have this or that. I had the ability to win and I didn't."
Rumours will be flying around concerning Barrichello's commitment to the sport after the Spanish weekend. The 36-year-old is the longest-ever serving F1 driver, and critics will say his performance yesterday was not one of his best.
Team principal Ross Brawn denied that Button had been favoured in any way, and suggested instead that Barrichello might have had some kind of mechanical gremlin during his second stint.
"If Rubens hadn't had his problem, it would have been incredibly close.
"If you look at the lap times on the tyres and the fuel, there was a period of the race where Rubens was a lot slower than expected.
"And that's what cost him the race because Jenson on more fuel was quicker."