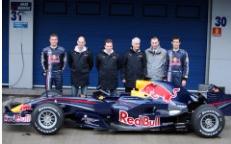 Following David Coulthard s spectacular crash during the first practice session at Sepang, Red Bull Racing have been hauled in to see the race stewards.
Having run wide at Turn 12, Coulthard attempted to rejoin the track at Turn 13. As he ran over the kerbs, his suspension shattered and the Scot was thrown into the gravel trap. This is the second suspension problem that the Scot has had this season prompting fears that the suspension on the RB4 is too fragile during last week s race, Coulthard suffered a suspension failure following his collision with Ferrari s Felipe Massa, and incident which caused Coulthard to retire from the race.
A statement issued by the stewards read, "Following a verbal report from the Race Director, the Team Principal and the Technical Representative are require to report to the Stewards of the Meeting to discuss the incident involving Car no. 9 during practice session 1 as soon as possible, after the end of practice session 2."
Having met with the stewards, Red Bull Racing have now been asked to supply the FIA with a technical report explaining why they should not be excluded from the Malaysian Grand Prix on safety grounds.
A further statement from the race stewards said, "The Stewards, having met with the Team Principal and Technical Representative of Red Bull racing in relation to the incident involving Car 9 in Practice 1, have requested that the competitor provide to the FIA Technical Delegate a report verifying that the integrity of the suspension is such that the car should not be deemed of dangerous constructions under Article 2.3 of the 2008 Formula One Technical Regulations."
Article 2.3 states that the stewards of a race meeting are permitted to exclude any vehicle whose construction is deemed to be dangerous
Christian Horner has said that he convinced that the RB4 is safe and that the problem was probably down to human error.
"It was a right front track rod that failed," he explained. "It was a brand new component fitted after Melbourne. We have done over 10,000 km of testing with identical components. You can see that the adhesives have failed and it just looked like a human error. So we have absolutely no concerns about the car s safety for tomorrow."
Adrian Newey agrees. "We had a track rod end failure which caused the accident with David earlier," he explained. "We know what the problem is and are confident we will be OK for the rest of the weekend. It a car his something that hard, then bits are going to fail if that was another car running over the back of one that it what you want it to do so it doesn t launch itself.
"The problem itself is what we know as infant mortality where a cold-bond adhesive hadn t been prepared properly so a very new part failed almost straight away. By fitting higher mileage parts we have had no problem through winter testing or anything like that so we are confident with a higher mileage part we will be fine."