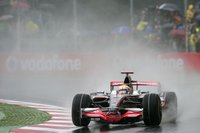 Championship leader unable to shine in the wet as tyre gamble drops him to the eighth row in Monza.
Lewis Hamilton might just be wishing stewards had dealt him the lesser of the two penalties considered in Belgium after a disastrous showing in qualifying for Sunday's Italian Grand Prix.
A ten place grid penalty will be looking considerably sweeter for the McLaren driver than it did before the rain-hit session; he starts the race from fifteenth after getting caught out by the notorious Ardenne climate.
The rain hit the Monza circuit hard in qualifying, but as the second knock-out session began, the showers ceased momentarily providing what was with hindsight the only window in which to set a time and progress to the shoot-out unless you're Felipe Massa of course.
What followed from Lewis Hamilton and McLaren was exactly the kind of error and misfortune that they have vowed to wipe out in their strategy to win the world championship by consistency.
"It was a joint decision to go out on wet-weather tyres at the start of Q2 – partly mine and partly my engineers'," said Hamilton. "We thought it was the right way to go at the time because it was getting dryer but the grip-level was poor so I came in and switched to extremes."
"By the time I got out, it had begun to rain and I just missed the window when the track was at its fastest; it was also very hard to pick out the braking points."
Hamilton then spent the remaining minutes of the session snaking his twitchy McLaren through the spray, praying that there would be another window of opportunity. It didn't come.
"We were caught out by a less-than-fully accurate weather forecast," disclosed McLaren Team Principal Ron Dennis. "As things turned out, there was only a narrow window of opportunity in which to cut a quick lap, and things didn't fall kindly for Lewis."
What caught the eye was not so much Hamilton's potential grid position and the impact of this on the championship, but the fact he struggled to get anywhere near the Q3 cusp, while others, most notably his title rival Felipe Massa, managed to improve their times. Had he lost his flair in the wet? Was Belgium still playing on his mind?
Perhaps a touch of embarrassment also played its part for the highly competitive Briton: "It's the first time this has happened to me in Formula 1, so I can't really complain – tomorrow's another day and we still have a fighting chance to make our way up the grid. I'll be doing the best job I can."
The situation wouldn't have been so bad had Felipe Massa not delivered the finest lap of his life. The Brazilian, not exactly renowned for his wet-weather proficiency after his embarrassing foray in the wet at Silverstone this year, somehow managed to haul his Ferrari into the top ten despite battling against the same conditions as Hamilton.
"The conditions were very critical with aquaplaning at various points and visibility was also poor, especially in traffic and the situation got worse and worse," explained Massa who will start Sunday's Grand Prix in sixth place.
"I still managed to improve my time and make it through to Q3, which was important. Tomorrow I must try and finish as high up the order as possible and get some points. It will be a very tough race, but we can rely on a very competitive car."
"It's true it could have been better, but it could also have been much worse. I am ahead of my main rivals in the fight for the championship and I still have a good grid position therefore."
Not even his rejuvenated team-mate could do it. Raikkonen, complete with an extended Ferrari contract, finds himself lining up just in front of Hamilton on the grid after failing to break into the top ten. Like Hamilton, Kimi pirouetted off the track at the water-logged Ascari chicane in a bid to do so.
"I was unable to do a time in Q2 when the conditions would still have made it possible and then it was impossible to catch up," he said. "On that lap, I went off at Ascari where there was a lot of water on the track, which meant I didn't make it through to the next session."
With Raikkonen lining up in front Hamilton, Ferrari are presented with an interesting opportunity in which to utilise team-orders to assist Massa. This is the Brazilian's best chance to open up the gap to Hamilton, and Stefano Domenicali will no doubt face calls to bring forward the decision about team-orders. How well that will go down with the tifosi tomorrow is another matter.