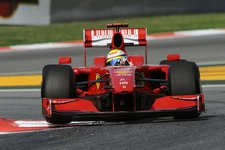 Three times a winner of the Turkish Grand Prix, Ferrari's Felipe Massa knows the Istanbul Speed Park better than most, and with Ferrari on the move at last in 2009 expect the Brazilian to cause major headaches for Jenson Button and Brawn this weekend.
"It s nice to be able to have something really positive to say for the first time this season," says Massa after an impressive charge to third place in the Monaco Grand Prix.
Tactical blunders and poor reliability left Ferrari without a point to their name after the opening races and that sent alarm bells ringing at Maranello.
But after a restructure of their trackside operations and some major aerodynamic upgrades to their car, the Scuderia at last appear to be making progress.
In Monaco Kimi Raikkonen and Felipe Massa pushed the Brawn drivers hard in both qualifying and the race.
"Given where we were at the start of the season, there is now a good reason to be optimistic for the next few races," said Massa.
"The car had definitely made another step forward in between Spain and Monaco, which meant it was even more competitive on the streets of Monte Carlo." "The result showed that we have got closer to the pace of the Brawns and can look forward to being even more competitive over the next few races."
With further upgrades to the F60 planned for Istanbul next week Massa is optimistic that he can give the Brawn drivers another run for their money and chase his fourth consecutive win at the circuit.
"For Istanbul, we will have another small step in terms of aerodynamic development, which should improve the car still further and that is down to a big push from the guys in the factory."
"We want to continue to improve as quickly as possible, to try and win some races. If will be fantastic if we find we are in a position to fight for the win in Turkey.
"I have a very good record in Istanbul, having won for the last three years starting from pole position each time.
"I find it difficult to explain why I should be so strong here, other than the fact we had three fantastic weekends in Turkey, when everything worked perfectly, with the car performing very well right from the first session. It would be nice to carry on in the same direction."
Explaining the secret of his success around the Istanbul circuit Massa confessed: "I just like the track and feel comfortable there, but it s hard to pinpoint why it suits me better than some other circuits. I do prefer fast flowing tracks and have a feel for all the corners here, as it s not good enough to only be fast over one particular section of the track."
"I think I ve also found a good way to set up the car perfectly for this circuit. It s not just Turkey though, as I ve won in Brazil for the last two years and actually, it should have been the last three in my home race. In fact, it s been suggested to me that maybe the reason is that they are the only two anti-clockwise circuits on the calendar. Who knows? Maybe I m better than others at driving through left handed corners!"