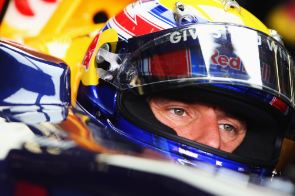 Webber steals Vettel's thunder as Red Bull cause more headaches for Brawn.
Mark Webber stormed to his first career pole position at the Nurburgring keeping his head in tricky conditions to fend off a charge from the Brawn GP team while out-qualifying his Red Bull teammate Vettel for only the second time this season.
The 27-year-old Aussie, still sporting pieces of metal in his leg after his cycling accident at the beginning of the year, laid down the pace in the opening sessions and delivered on it to devastating effect in Q3 with a lap of 1:32.230, which was enough to dethrone Brawn's Rubens Barrichello from the top spot and demote championship leader Jenson Button to third.
Above all, the lap re-established Webber's authority in the Red Bull camp with local favourite Sebastian Vettel forced to settle for fourth place. Post-qualifying fuel weights confirmed not only that it was a straight fight between the Red Bull pair, but also that rivals Brawn were running lighter.
"It is very special day for me," said Webber in the post-qualifying press conference in what was something of a role reversal as Red Bull and Brawn's number two drivers stepped into the fore. "To get pole… I've been close a few times in the past, and on pole fuel corrected a few times but that doesn't count.
"We are here, team has done a great job all weekend, we got very tested in that session. "I think that the car is working very well here, but talking to my engineer, it was so hard. We learned a little bit in Q2 with Rubens doing that lap, he did a very good lap, it was chaotic to read what we needed at the end.
"It was difficult knowing what track was going to do, how greasy the track was and what tyre to use. It was a very difficult session and one our team did well and that is why we got pole."
Barrichello tried to respond but was unable to improve on his earlier laptime despite carrying a lighter fuel load than Webber. Both Brawn drivers will be hoping for hotter conditions in Sunday's race after the BGP001 proved it still has problems managing the tyres in the damp. But with more rain predicted for the race, Button and Barrichello know they have their work cut out.
"We ve improved the car since practice yesterday but it s still going to be tough to keep the tyres warm and you ll need a bit of luck with the weather," said Button.
Defending world champion Lewis Hamilton, assisted by a significantly revised McLaren package for Mercedes-Benz's home race was fifth fastest ahead of teammate Heikki Kovalainen who was equally impressive in the sister McLaren given that he has been denied the new double diffuser.
"We re definitely in a position to fight for a podium, but trying to beat the Brawns and the Red Bulls will be difficult," conceded Hamilton afterwards. "The car is still a work-in-progress and there s a way to go but this is really encouraging."
Wet weather specialist and home favourite Adrian Sutil, another driver who timed his run on delighted the crowds with seventh place for Force India ahead of the Ferrari drivers.
It is the first time that both McLaren and Ferrari cars have taken part in the top ten shoot out this year, an indication of the progress that these teams have made to catch up.
Admission into the top ten shoot out had to be earned the hard way today as showers fell at the beginning of the session, stopping briefly midway through the session – allowing the track to dry – before re-descending on the Eifel circuit at the close.
"Q2 was madness, it was good fun," said Button. "We were struggling with tyre warm-up anyway but when you chuck some water in there it gets difficult…
"Tomorrow is going to be interesting. The weather is looking similar to today so it will be wet, dry, wet, dry so you'll need a bit of luck, and to be looking at what people are doing.
Rubens Barrichello, Nelson Piquet, wet-weather specialist Adrian Sutil, and Mark Webber, all timed their runs perfectly, switching to the dry tyres during the small window that presented itself, but championship leader Jenson Button was less fortunate.
The Briton found himself in the dropzone with mere minutes on the clock remaining and heavier rain to boot. Demonstrating why he has every right to be world champion this year the Brawn driver somehow dug himself out of the hole and hustled his slick-shod BGP001 into Q3 despite the showers. Fellow countryman Lewis Hamilton also reminded the Formula One community of his champion status by following Button into Q3.
Button's main championship protagonist, Sebastian Vettel, found himself under pressure for different reasons after Williams' Kazuki Nakajima collided with him in the pitlane. It later emerged that Red Bull were to blame and the team were docked E10,000 fine. Whether that distracted Vettel or not, the German had no answer for Webber.
"My last lap wasn t magnificent, which is why I m not on the front row," the German conceded. "The car was good enough to have been up there today, but I didn t do it. Who knows what is happening tomorrow in the race, the weather is quite unpredictable around here, so we will see."
The late laps from Button and Hamilton dropped BMW Sauber's Nick Heidfeld to eleventh place, while a spin at the final chicane scuppered Fernando Alonso's session and demoted him to twelfth place, ahead of Kazuki Nakajima, Jarno Trulli, and Nico Rosberg.
"At the start of qualifying we were quite optimistic," mulled Alonso. "We were competitive in Q1 but after that Q2 became difficult for everybody as the conditions were constantly changing."
"Unfortunately we missed the opportunity to be in Q3, but hopefully tomorrow we can make up some positions and if it does rain that could work to our advantage. I m quite confident for the race tomorrow."
The possibility of showers going into qualifying one, allied to the pace of the usual back markers Force India meant that all the drivers were wary of being knocked out of the running early.
But it was German interest that felt the brunt of the showers when they fell towards the end of Q1 with Robert Kubica pacing sixteenth quickest at BMW Sauber's home race, while local favourite Timo Glock struggled with the handling of his Toyota to pace nineteenth – but not before holding up a furious Fernando Alonso on his outlap.
The Toyota driver was slapped with a three-place grid penalty for his actions and will start last.
"That was definitely a disappointing result and it is not what I expected for my home Grand Prix," said Glock. "The weather was too cold for us because since Silverstone I have struggled to get the most out of the tyres over one lap; I don t know if it is only the temperatures or something else as well."
"It s not clear to me why we have this issue with the tyres in qualifying but we have to work on it. It is a real pity I went out in first qualifying because after that we had the rain and I usually do really well in wet conditions. Maybe we will have some rain again tomorrow and that might give me a chance to get a decent result. We will see."
Giancarlo Fisichella will be disappointed to start eighteenth after Adrian Sutil's performance, while under pressure Toro Rosso driver Sebastian Bourdais did little to impress his employers by qualifying last.

1       Mark Webber             Red Bull        1:32.320
2       Rubens Barrichello      Brawn           0:00.167
3       Jenson Button           Brawn           0:00.283
4       Sebastian Vettel        Red Bull        0:00.290
5       Lewis Hamilton          McLaren         0:00.426
6       Heikki Kovalainen       McLaren         0:01.669
7       Adrian Sutil            Force India     0:02.384
8       Felipe Massa            Ferrari         0:02.384
9       Kimi Räikkönen          Ferrari         0:02.613
10      Nelson Piquet           Renault         0:02.613
11      Nick Heidfeld           BMW             0:10.120
12      Fernando Alonso         Renault         0:10.128
13      Kazuki Nakajima         Williams        0:10.310
14      Jarno Trulli            Toyota          0:10.581
15      Nico Rosberg            Williams        0:10.669
16      Robert Kubica           BMW             0:00.000
17      Sebastien Buemi         Toro Rosso      0:00.061
18      Giancarlo Fisichella    Force India     0:00.212
19      Timo Glock              Toyota          0:00.233
20      Sebastien Bourdais      Toro Rosso      0:01.369