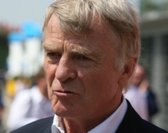 FIA president Max Mosley has issued a stark warning to the Formula One community saying that the sport will effectively collapse if the teams do not take more radical steps to curb their spending.
The Formula One Teams Association (FOTA) and the FIA agreed a raft of radical cost-cutting proposals in December including a total ban on in-season testing and major restrictions on aerodynamic and engine development.
But Mosley, who believes that Formula One is facing its biggest crisis in 50 years as a result of the global economic crisis, has called for the teams to take more extreme measures to slash their budgets, warning of a half-empty grid as early as 2010 if immediate action is not taken to combat the worsening economic climate.
"We had the meeting with FOTA on December 10, but the situation today is much worse than it was then. The car industry is like an airplane in a dive – everyone is waiting for it to pull out but so far there is no sign of it happening," he told Autosport.com
"It is by far the biggest (crisis) since I have been involved in the late 1960s," Mosley told autosport.com during a media lunch in London on Thursday. (If no action is taken) I think we would end up with very few cars on the grid truly in 2010."
Mosley wants to see the teams operating budgets slashed to €50 million by introducing more standardised parts and requiring manufacturer teams to make their technologies affordable to the smaller teams.
He wants to implement these proposals as early as Spring this year and he hinted the FIA could impose sanctions on teams that do not comply.
"We are, how shall I put it, in a situation of force majeure," he said before brushing off the threat of any legal challenge: "Anybody can go to court and dispute it, but I cannot see a judge saying you are completely wrong, you should allow these people to go bankrupt, and what on earth are you doing?"
Mosley also hit out at the teams for showing a lack of urgency to tackle the problem of rising costs but reckons that the threat of any empty grid will force through change.
"The teams agree with the principle (of cost cuts) but they don't want us to do it that quickly," he said. "I think we are going to have to do it that quickly… it is very, very unhealthy that there is no new blood in F1.
"We have two vacancies, possibly three if Honda don't make it. In the Premier League it would be unthinkable to have two vacancies so there has to be something wrong with F1 – and what is wrong is that the barriers to entry are far too high."
"It was bad enough before the current situation, it is now a complete disaster. It obviously has to stop. We think it should stop for 2010 and we are urging the teams to do that."